You're Invited to #FindYourTrail
In 2018, America will celebrate the 50th anniversary of our National Trails System and Americans everywhere are being encouraged to #FindYourTrail!
When the 1968 National Trails System Act was signed into law, America was given a gift – the creation of the National Trails System and the protection of some of our favorite places where we can enjoy the great outdoors. While there have been changes over the years, today the National Trails System includes a variety of trails such trails as the Appalachian Trail, the Selma to Montgomery National Historic Trail, and thousands of others.
We have these trails because those who came before us had the courage to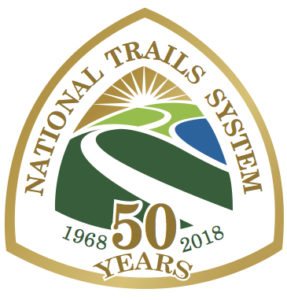 dream big. Identifying and protecting a narrow strip of land where future generations could explore nature, discover history, or simply stretch their legs for a distance required a long-term vision and an unconquerable optimism.
While we celebrate all that has been accomplished, we are also looking to the future. Together, we can ensure a bright future for the trails we love by getting out and enjoying them, sharing the experience with others who are new to trails, and volunteering to pitch in on a little trail maintenance.
American Hiking Society hopes every American will join us in this nationwide celebration of trails and all the adventure, fitness, and fun they allow us to enjoy. Whether on a long-distance backcountry trail, an urban rail-trail, or paddling along a historic exploration route, you are encouraged to discover, connect, and explore and to #FindYourTrail!
No matter where you #FindYourTrail you can be a part of the fun and excitement. Here are a few ways you can get in on the celebration:
Take someone hiking who hasn't been in a while – or maybe at all.
Share your trail story (and pictures) with others – in person, on-line, or on the trail. If sharing on-line, use hashtags #FindYourTrail and #Trails50.
Explore a new trail.
Do something different – maybe paddle a water trail, pedal a bike, or try horseback riding. Mix in some birding or citizen science. Keep things fresh!
Subscribe to the free 50th Anniversary e-newsletter when you visit Trails50.org.