Connecting Through Trails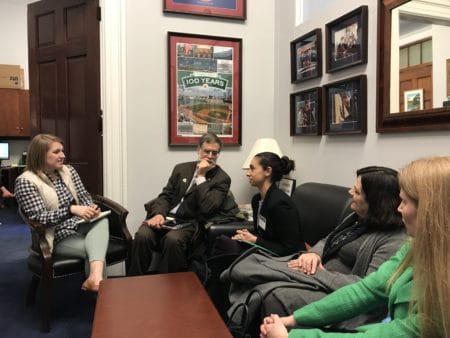 Outside of the Washington Plaza Hotel, where Hike the Hill® convened this year, marks the beginning of the Logan Circle Heritage Trail. The trail traces the history of the Logan Circle neighborhood from its time as open farmland, through the post-Civil War era as a haven for freed people, to the present day. Even in this small pocket of D.C., there are examples of why trails and public lands are so integral to our American experience. They appear in the most unlikely places, and connect us to our history and our communities.
I had the pleasure of walking the entirety of one of our National Trails—the Appalachian Trail. The Appalachian Trail stretches from Georgia to Maine and encompasses quite the range of environments. You hike through dense forests, slide on slick granite rock, and pass through rural East Coast towns. The AT demonstrates the variety of trails that can be found in the United States – other trails connected to the spine of the Appalachian mountains meander to Canada, New York City, or the shores of North Carolina. These branches connect to communities that are affected by trails and public lands.
At Hike the Hill® as a NextGen Trail Leader, I had the honor to not only share my experience hiking our trails with Congress, but I also had the opportunity to hear from others about their experience in the outdoors. My trip to Washington helped me understand how trails connect all of us. Everyone has a story about "their" trail, and what it means to them. Senator Elizabeth Warren's staff gushed about their love of Mt. Tom in Massachusetts, while Senator Diane Feinstein's staff were eager to hear about upcoming hikes in California from other advocates. A member of the Overmountain Victory Trail Association, dressed in full Revolutionary War garb, talked animatedly to me about his education projects on the OVT. It felt incredible to collaborate with like-minded people from across the country to share why these trails are so important. Everyone who came to D.C. had a drive and a passion to protect our lands for generations to come, but we all had different paths and experiences that urged us to advocate on Capitol Hill. We all have a trail story to tell, and that is why it is so important to protect the variety of trails and public lands that our country has to offer.
By Dakota Jackson, NextGen Trail Leader, American Hiking Society