Families on Foot Hiking Stories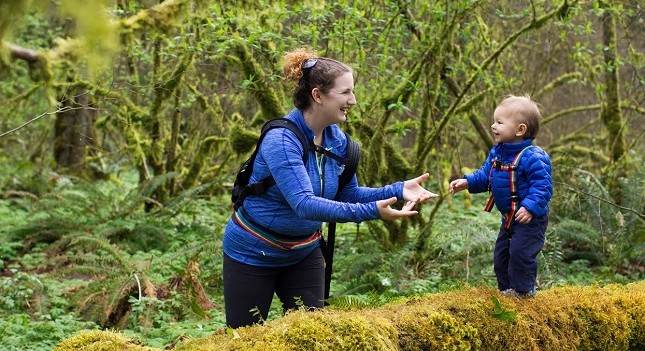 We have teamed up with Jennifer Pharr Davis, AHS Ambassador, Appalachian Trail speed record holder, uber family hiker, and Falcon Guides to create a family guide to hiking and we want YOUR stories and photos!
The American Hiking Society and hiking superstar couple Jennifer Pharr Davis and Brew Davis are writing Families on Foot, a fun, engaging book that offers tools, tips, games, and activities for parents who want to connect their children to the outdoors through hiking. Be it a casual walk through the local park or a more challenging hike through a faraway national park, this book fills you in on everything from how to prep before you go (and what kid-friendly gear to take) to what games to play while you're there in order to keep your kids enthralled during your outdoor adventure.
Here's where YOU come in.
We want to collect "real life" stories and photos from you, our trusted hiker, to potentially feature throughout the published book.
What kinds of stories and/or photos, you ask? We're looking for stories that are relatable and encouraging to other families who want to go hiking. Tell us about a successful technique you implemented with your five-year-old on the trail. Or about your yummy, must-have trail mix that keeps tummies full and feet moving. Or about the game you play with your ten-year-old to keep him engaged. Or about a mistake you made and how you corrected it.
Funny, poignant, or practical in nature, these stories should be between 300-500 words in length. Please include your name and title ("mother of three," "blogger," "hiker," etc.) with your submission. Also, please submit a photo (as a high-resolution jpeg) that complements your story, and don't forget to caption and credit it!
Here are some great questions to help you think about what you could submit:
How has hiking positively impacted your family?
What steps do you take to get your family prepared and excited for a hike?
Have you experienced a mishap or injury on a family outing? How did you work through it? What did you learn?
When you go hiking with children of varying ages, how do you make sure everyone has the proper gear and equipment? (Bonus: Do you have any tips for handmade or inexpensive family hiking gear?)
For the parent who has hiked with your son or daughter for a long time and watched your child grow up on the trail, how have you seen your child's interaction and relationship with nature change and develop over the years?
Can you tell us about the experience and benefits of teaching your child a specific outdoor skill (such as GPS, map and compass, or fire building)?
What are your favorite trail games or outdoor activities to do as a family?
For the teenager who has served on a trail crew or participated in American Hiking Society's Volunteer Vacation program, how has giving back to the trail positively impacted your life? What did the experience teach you?
For the hiker who has overcome a physical, mental, or emotional health concern, how has the trail helped you overcome obstacles?
For the adult hiker, why is it important to continue to go hiking with your parent as he or she ages?
What if you don't have a story, but you have some great photos? No problem! We're also looking for separate photo submissions for the book. Follow this link to send us a shot of your smiling face peering out from a rocky outcropping or a snapshot of your family hamming it up for the camera in front of a gorgeous waterfall. All photos should be high-resolution jpegs, saving images directly off of Instagram and other online collections typically results in low resolution, send the original images for best resolution.  All should be submitted with a caption and photo credit.
If your contribution is selected to appear in the final book, you will receive a complimentary copy of Families on Foot once it is printed. No further financial compensations will be made. But Jennifer and Brew promise to buy you a drink should your paths meet in the future!
FILL OUT THE FORM BELOW to submit your stories and photos by February 29, 2016.
THANK YOU, and see you out on the trails!
~the Families on Foot team
If you have any questions or concerns, please contact Kim Lyons, Director of Development & Marketing at [email protected]. Stories and images that are not published in the book may be used by American Hiking Society in print and online media to promote Families on Foot, by submitting images or stories you are granting American Hiking Society the right to use the submitted content in future Families on Foot promotions.