Over 120 hikers and trail advocates from across the country came together this month for the 25th Annual Hike the HillⓇ advocacy event. This annual event, celebrating its 25th year, co-hosted by American Hiking Society and Partnership for the National Trails System brings together hikers, leaders of the National Trails System and the trails community writ large and next gen advocates to collectively advocate for shared priorities of the trails system before congress and federal agency leaders. Participants learn from experts and leaders during issue briefings on the key issues impacting trails.
The trail community met with the National Park Service Director, top leadership at the US Forest Service and Bureau of Land Management, and key congressional committees. Through these meetings, trail leaders demonstrated the importance and value of 
trails and the National Trails System

partnerships with the non-profit trails community and volunteers in managing and maintaining trails

increased funding and restored staffing for trails, and 

the critical work being done to expand equitable access to the outdoors for all communities.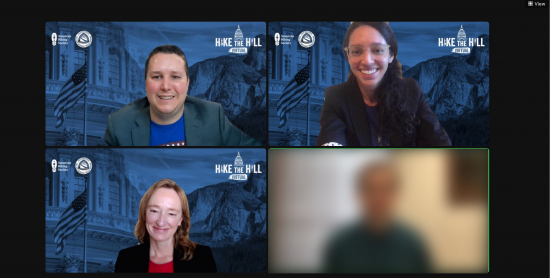 AHS NextGen Trail Leaders, trail organizations, and advocates urged Representatives and Senators to support and advance legislation for trails while meeting with congressional offices. The key priorities made during Hike the HillⓇ included:
Hike the HillⓇ provided NextGen Trail Leaders their first opportunity to make their voice heard and meet with their congressional representatives offices and share about the important work they're doing in their communities. NextGen shared their experiences across social media to encourage and educate the hiking community on the importance of advocacy and ways to get involved. There was also an opportunity for next gen participants across trail organizations to come together for a meet n' greet to create connections and engage in dialogue on how to advance their efforts and support each other.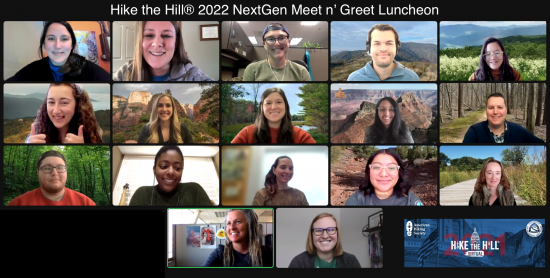 All hikers and trail users can join the trails community in these efforts! Take 30 seconds and send your Members of Congress a message letting them know how important trails, hiking, and outdoor access are to you!