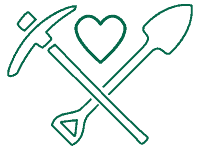 Nourish Your Body and Soul
Volunteer Vacations are good for you and Mother Nature. Work hard, get dirty, dig deep...and feel immensely rewarded.  Build a legacy that will bring outdoor adventures to others for years to come.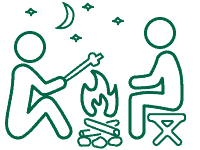 Share the Experience
We are building a nation of kick-butt trail stewards and invite you to join.  Work side-by-side with fellow do-gooders by day, and share stories around the campfire by night.

Connect with Nature
Breath in the mountain air. Listen to the crackle of leaves underfoot. Gaze in wonder at breathtaking vistas.  Experience nature up close, and return from vacation appreciating the outdoors in a new way.
Receive emails notifications for future Volunteer Vacation trips and updates from American Hiking Society. 
Volunteer Vacations Information
Volunteer Vacations are rated to help you find a project that suits your needs and physical ability. While trips do not require prior trail maintenance experience, all of our projects require participants to be in good physical condition and will involve 30-40 hours of physical labor during the week.  Projects are rated from 'easy' to 'very strenuous'.
Please read the project descriptions carefully, honestly assess your physical capabilities, and choose one that fits your experience level and current health.
Don't hesitate to contact us if you need assistance selecting a trip. Full project descriptions can be found with each project listing.
If you would like assistance selecting a trip or have additional questions, please contact Ellie Place, at EPlace@AmericanHiking.org or call 1-800-972-8608 ext. 704.

Day Hiking
Trips do not require backpacking to base camp/lodging.  Each day, the crew will hike to the project site (or be driven to the trailhead) to work.

Backpacking
Trips involve backpacking to base camp. You must provide your own camping gear and be prepared to carry your personal gear (and possibly a portion of food/tools) to base camp.  We highly recommend prior backpacking experience to participate in these trips.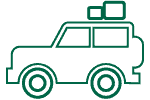 Car Camping Sites
 Base camp will be car accessible. Most improved tent sites will offer running water and bathroom access (but this is not guaranteed- check the trip details for what is offered at your campsite). You must provide your own camping gear.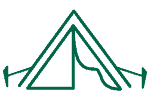 Primitive Tent Sites
Base camp will be in an undeveloped backcountry location. Most primitive tent sites will not have access to indoor bathrooms. (Check the trip details to see if any amenities are offered at your campsite). You must provide your own camping gear.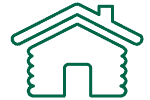 Indoor Lodging
Base camp will be indoors (i.e. shelter, cabin, lodge, dormitory house). Check the project description online for details on what to bring.  Some projects will provide linens and some will require you to bring linens or a sleeping bag.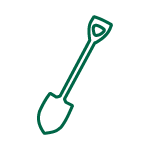 Easy-Moderate
Trips provide car-camping or indoor accommodations and day hiking up to 3 miles throughout the day. Work usually includes general trail maintenance.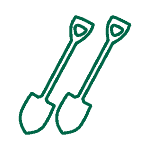 Moderate-Difficult
Trips usually provide car-camping or indoor accommodations with longer day hikes (4+ miles) and more demanding physical work. If backpacking is included, the hike is less than 3 miles to basecamp. The work may include heavy lifting, lots of bending, shoveling, picking, chopping, and/or sawing.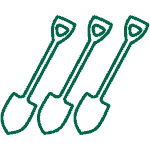 Strenuous-Very Strenuous
Trips usually require backpacking more than 3 and up to 10 miles into base camp. Generally, these projects are rated strenuous due to the backpacking distance and terrain or elevation. Prior backpacking experience is strongly recommended.  The work may include heavy lifting, lots of bending, shoveling, picking, chopping, and/or sawing.
Project Confirmation/Booking Travel
If you submit your registration online, you should receive an automatic confirmation that your registration has been submitted and received. Once the minimum number of volunteers has been met and all details have been confirmed with the project host, we will send you a project confirmation, via email. These are generally sent out 6-8 weeks in advance of the project start.  Note we will also wait to confirm every project until we confirm COVID protocols are in place and there are no travel/volunteer restrictions in place in the trip's region.
We strongly encourage booking refundable/transferrable transportation for all of our trips.
AHS is not responsible for lost funds due to canceled or modified travel itineraries.
All trip participants must provide their own health and accident insurance; in case of injury or illness while on their trip. Each participant is required to fill out an Assumption of Risk and Release Form upon registration for any trip. Please consider purchasing trip cancellation insurance to cover you in the event that you are no longer able to participate in your scheduled trip. Trip cancellation insurance protects you against financial loss if you must cancel a trip because of illness or injury to yourself, a family member, or traveling companion.
Cancellations

Cancellations received at least 10 weeks prior to the start date of the project will receive a 50% refund of the original registration fee paid.
No refund will be made if cancellation is made less than 10 weeks prior to the start date or if the participant fails to show up for the project. This includes instances of injury or illness.
If notice is received at least 10 weeks prior to the start date of the project, participants may switch to another project during the same calendar year.
We understand that things might come up that would prevent you from participating in your scheduled trip.  If you are unable to take part in your assigned project for any reason, please let us know immediately so we can notify the project host and crew leader.

COVID-19 Related Cancellations:

If you sign up for a Volunteer Vacation and are no longer able to participate due to COVID-19 illness or exposure, you can transfer your trip fee to another trip in the same year or we will hold a credit for you to use in the same year.
Introduction to Trail Maintenance
Are you unfamiliar with some of the technical jargon in your project description? Although trail maintenance is often best explained with a hands-on approach, Trail Maintenance: 101 will clarify what your project could entail. The document contains a glossary of common trail maintenance terms, commonly used tools, and tool safety information. More in-depth information and training will be provided on your Volunteer Vacation prior to starting work.
Your equipment needs will vary based on the project and different climates. Pay attention to any special instructions from your host and crew leader for your specific project. Each volunteer should bring the following gear in addition to all personal items. Tools, camp cook gear, and First-Aid equipment will be provided by the host.
Required Equipment for each Volunteer Vacation:
Tent (unless host provides indoor accommodations)
Sleeping bag (unless linens are provided)
Well worn in hiking/work boots
Long pants
Long-sleeve shirts
Work gloves (often provided by host)
Rain jacket
Personal eating utensils (cup, bowl, utensils)
Two 1-Liter reusable water bottles
Daypack for transporting your lunch, extra clothes, water bottles, and other items to the worksite.
See our equipment lists for Camping Accommodations and Indoor Accommodations for further help in planning your trip. Always bring the 10 Essentials of Hiking in your pack for an enjoyable Volunteer Vacation. Pets, firearms, and illegal drugs are strictly prohibited on our Volunteer Vacations. Don't hesitate to contact us if you have any questions regarding clothing or equipment needed for your trip.  Call at 800-972-8608