We saw how our public lands suffered during the government shutdown.  Together, we'll give back to the places we love and set the world record for the most people improving trails in a single day.
Be a part of history by pledging to clean up a trail or volunteering at a trail service project on National Trails Day®.
We will never share your email address. Ever.
Frequently Asked Questions
Why should I submit a pledge?
By pledging to improve a trail you'll join a nation-wide movement to set a world record and (more importantly) sustain America's remarkable trails system. With your help, we can preserve beloved trails for future generations. Plus, everyone who commits to improving trails will be entered to win weekly giveaways of awesome outdoor gear.
How does this pledge work?
Make your commitment to improving a trail by simply submitting the online pledge. After National Trails Day®, we'll ask you how many miles of trail you helped to improve to establish the world record of trail service. Everyone who confirms they improved a trail (of any length) will be entered to win the grand prize package of premium outdoor gear.
How do I improve a trail?
It can be as simple as collecting trash along the trail. Or, take your trail cred to the next level and join an organized trail work party to maintain or build new trail. Check out what trail work projects are in your area. More projects are added frequently leading up to National Trails Day®, so check back if you don't see a project close to you.
What if I can't get out on National Trails Day®?
You may take the pledge to improve a trail on another day if you can't get outside for National Trails Day® but we highly encourage people to join the national movement on June 2nd.
How do I share what I did on National Trails Day®?
We'll be looking for photos and stories tagged with #NationalTrailsDay and @AmericanHiking on Facebook, Twitter, and Instagram.
Still have questions?
Make History
Join Us on
National Trails Day®
June 1, 2019
Take Photos. Win Gear.
Let us know how you celebrated National Trails Day® by including #NationalTrailsDay and tagging @AmericanHiking on your photos on Instagram.
Capture a candid trail moment, and you could win one of three gear packages. Contest ends June 9, so start tagging.
Other Great Hashtags to Include:
#EscapetheIndoors
#WhyIHike
#MakeAPactPackItOut
#PackItOut
#LeaveItBetter
#LeaveNoTrace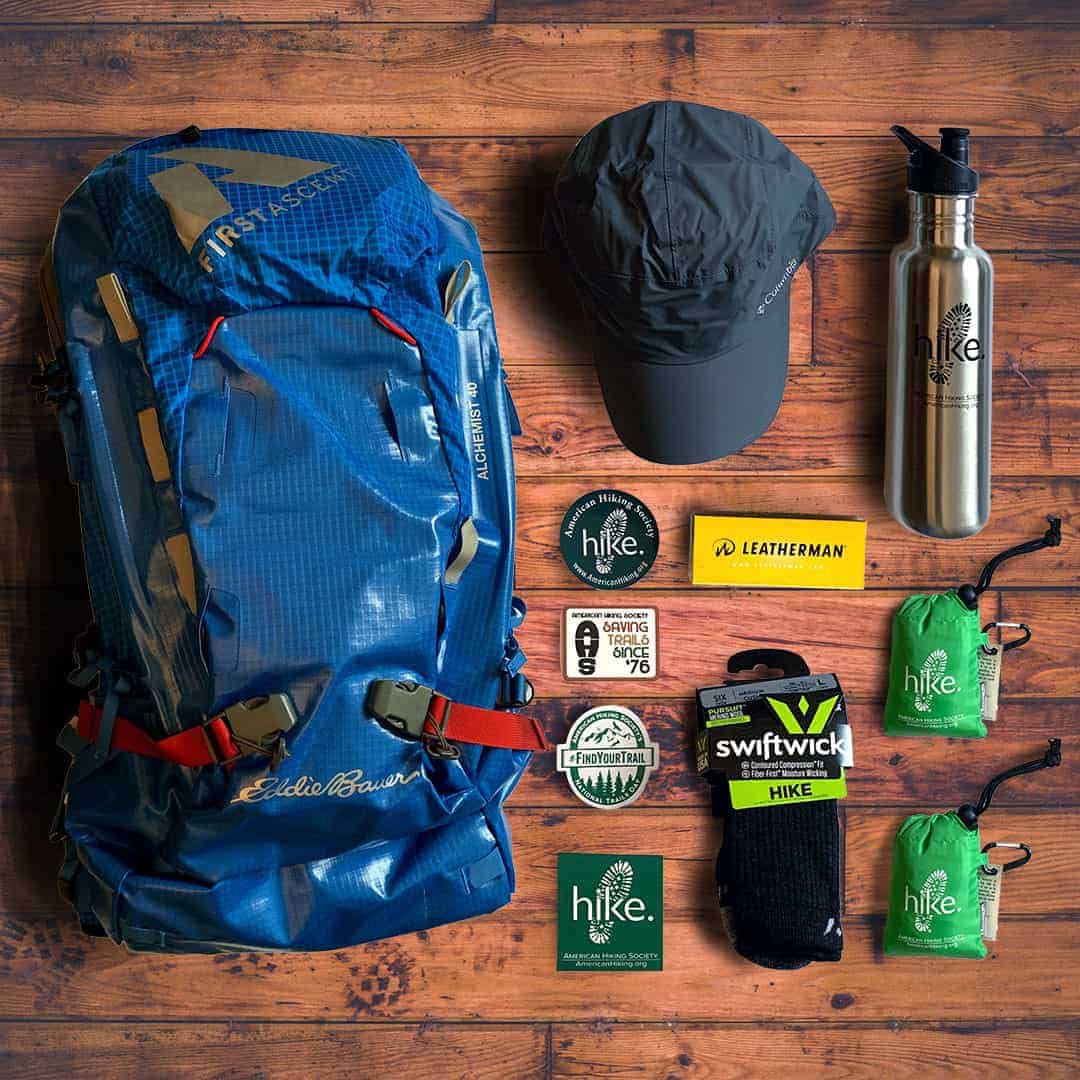 Gear Prize Package ($357 value)
1 Eddie Bauer 40 First Ascent Pack

1 Leatherman Sport LEAP

1 Columbia hiking hat

1 Swiftwick "Six," Size Medium

1 Klean Kanteen"Hike" Sports Water Bottle

2 Hike Chico bags

10 AHS stickers (assorted)
What's National Trails Day® All About?
Taking place on the first Saturday in June, National Trails Day® is a day of public events aimed at advocacy and trail service. Thousands of hikers, bikers, rowers, horseback riders, trail clubs, federal and local agencies, land trusts, and businesses come together in partnership to advocate for, maintain, and clean up public lands and trails.