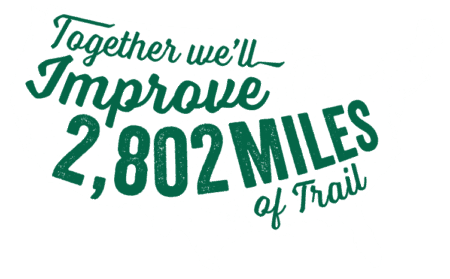 Join this historic event and leave the trail better than you found it! In honor of the 50th anniversary of the National Trail System, pledge to pack out trash, join a trail work project, or clean up a park. In a single day, we'll collectively improve 2,802 miles of trail—the distance across the US.
Frequently Asked Questions
Why should I submit a pledge?
By pledging to leave a trail or park better than you found it, you are joining a national movement to preserve America's remarkable public lands for future generations. Plus, everyone who commits to improve trails and parks will be entered to win weekly giveaways of swag and outdoor gear.
How does this pledge work?
Make your commitment to give back to trails and parks by simply submitting the pledge form. After National Trails Day® we'll ask you how many miles of trail you helped improve. Everyone who confirms they improved a section of trail (of any length) will be entered to win the grand prize, which includes swag and premium outdoor gear.
How do I improve a trail?
It can be as simple as collecting trash. Or, take your trail cred to the next level by joining an organized trail work party to maintain or build new trail. Check out what trail work projects are in your area. More projects are added frequently, so check back if you don't see a project close to you.
What if I can't get out on National Trails Day®?
You may take the pledge to improve a trail on another day if you can't get outside for National Trails Day® but we highly encourage people to join the national movement on June 2nd.
How do I share what I did on National Trails Day®?
We'll be looking for photos and stories tagged with #NationalTrailsDay and @AmericanHiking on Facebook, Twitter, and Instagram.
Still have questions?
Click here for more FAQs or email NTD@AmericanHiking.org.
Join us on
National Trails Day®
June 2, 2018
To improve 2,802 miles of trails
In a single day
National Trails Day® Sponsor and Partners
Lace up your hiking boots, air up your bike tires, dust off your work gloves, slip on your trail runners, grab your paddle, or saddle up your horse and HIT THE TRAIL!
Adventures are meant to be shared. National Trails Day is a great opportunity to meet new people in your area and share a fun experience on a local trail. Share your adventure with the nation using #NationalTrailsDay.
Young or old, inexperienced or expert, there's a trail and a National Trails Day event to suit the interests of every individual.
What's National Trails Day All About?
National Trails Day is the only nationally coordinated event designed to unite all muscle-powered trail activities with the goal of connecting more people to trails. Every trail beckons adventure and has a story to share with any person willing to discover it, and American Hiking Society believes these trail experiences can improve the lives of every American.
Each year, on the first Saturday of June, American Hiking Society and the trails community invite Americans of all ages and abilities to find their own adventure and discover their unique story at one of the thousands of events hosted throughout the country.
By coordinating a wide array of trail activities on a single day, National Trails Day attracts new trail users and helps connect existing trail enthusiasts with local clubs and organizations with the hopes of creating trail advocates and stewards. The task to protect and maintain more than 200,000 miles of trails in the U.S. requires a collaborative effort among trail clubs, organizations, government agencies, and most importantly passionate trail advocates and stewards.