AHS Report Highlights Hiking-Health Connections
May 26, 2016 – American Hiking Society is pleased to announce the release of it's newest report, Hiking Trails in America: Pathways to Health, in which it makes the case that some of the best fitness equipment in the world is already inside our shoes.
With only 1 in 5 American adults meeting the Centers for Disease Control's physical activity guidelines, clearly something must change. In the report, American Hiking Society states that only when exercise is enjoyable, as hiking certainly is, will most people stick with it and reap the benefits that regular exercise offers. Additionally, hiking requires little more than a sturdy pair of shoes and people at virtually all levels of fitness can participate.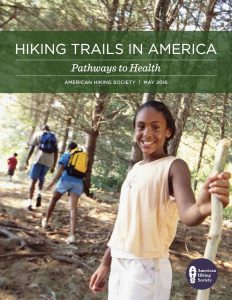 Once people begin hiking regularly the health benefits are plentiful according to American Hiking, and include such things as lower blood pressure, healthier body weight, and improved mental health, among a host of other health benefits. And it needn't always be a backcountry trek – whether one is hiking in a local park or deep in the woods, it's just a matter of getting out and moving.
To help create a nation where hiking is a regular activity for a greater number of people, the report includes a number of calls to action. Among them, is the need to encourage public participation in hiking by sharing information about trails and making them easily accessible to all. But people can only hike regularly if trails are readily available and so it also includes a call to action to connect trails – especially urban trails – into networks that allow longer hikes as well as to connect those in the community with schools, shopping, and each other. American Hiking Society also calls for increased trails funding to build not just the urban trails but to complete the nation's long distance trails as well.
The report was released at a press event on Capitol Hill. Speakers offering their support of hiking and trails included:
Representative Earl Blumenauer (OR-03)
Representative Jeff Fortenberry (NE-01)
Tom Tidwell, Chief, US Forest Service
Denise Ryan, Deputy Director, National Park Service
Sara Newman, Captain, US Public Health Service
Christine Walters, Chief Operating Officer, Warrior Expeditions
Gregory Miller, Ph.D., President, American Hiking Society

Hiking Trails in America: Pathways to Health is available to the public as a free download. For those new to hiking or looking to begin hiking with children there's even a how-to-get-started section in the addenda that will help ensure your next hike starts off on the right foot!