Hiking the Hill and Remembering Lincoln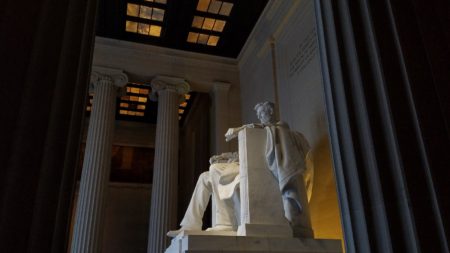 The most vivid memory I have of Hike The Hill® is standing next to Abraham Lincoln's embodiment in the Lincoln Memorial at sunset and reading part of the Gettysburg Address – "It is for us the living, rather, to be dedicated here to the unfinished work which they who fought here have thus far so nobly advanced. It is rather for us to be here dedicated to the great task remaining before us…"
Eight score and 15 years ago, Lincoln was fighting for civil rights and the security of the Union. This sentiments of this passage speaks to the Next Generation of Trail Leaders. The United States has a wealth of history surrounding its public lands and wild places. This was made evident as the other Next Generation Trail Leaders and myself stood in the historic U.S. Senate Kennedy Caucus room (where the 1973 Watergate Hearings with Nixon were held), to celebrate the 50th anniversary of the National Trails System Act of 1968 and the Wild & Scenic Rivers Act of 1968. We were not just in attendance to celebrate the 50th anniversary of the National Trails System and the Wild & Scenic Rivers System; we were there to celebrate the next 50 years. It is for us, the Next Generation, to be dedicated to the unfinished work on National Trails, to do so for those who have fought before us, and for the work they have so nobly advanced.
I learned that week what it means to fight for the things you value; it doesn't mean you have to hike 80 miles in a week with a shovel, cross cut saw, and a sixty-pound backpack. It doesn't mean you have to go halfway across the country on a thru-hike. Fighting for the things you value, like public lands, trails, and Wilderness means standing up for them in the wilderness of democracy and politics. It means saying no to bills such as H.R. 1349 (amending the Wilderness Act to allow mountain bikes) and yes to reauthorizing legislation such as the Land and Water Conservation Fund (LWCF). Hiking down from the hill, and down the steps from the Lincoln Memorial, I know I'll return, dedicated to the great task remaining before us. We've learned from Gettysburg, there is no end in the fight for freedom and equity, only the pursuit of braver trails.
Tyler Lee has worked in the outdoor conservation industry for over six years; he currently works seasonally for the U.S. Forest Service as a Wilderness Ranger. His contemporary focus is Integrative and Public Land Management in the Master of Environmental Management program at Western State Colorado University. For his master's project, he is assisting the Aspen Sopris Ranger District of the White River National Forest with the strategic implementation of an overnight limited use permit system at Conundrum Hot Springs in the Maroon Bells-Snowmass Wilderness. Tyler is also a American Hiking Society NextGen Trail Leader and Policy Intern with the Back-Country Horseman of America.