The mission of the bipartisan House Trails Caucus is to provide a forum for interested Members of Congress to work together for the creation and conservation of our natural landscape and recreation activities through the preservation of trails. They do this through such things as hosting briefings and informational events as well as by being a forum for information sharing between Members, staff, and stakeholders about relevant policies, as well as information about recreational hiking, bicycling, and other trail activities in a Member's community.
The Caucus's co-chairs are:
Rep. Earl Blumenauer (D-OR-03)
Rep. Jeff Fortenberry (R-NE-01)
Rep. Rick Nolan (D-MN-08)
Rep. Ryan Costello (R-PA-06)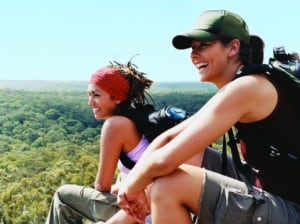 Other members of the Caucus include:
Rep. Julia Brownley (D-CA-26)
Rep. Peter DeFazio (D-OR-04)
Rep. John Delaney (D-MD-06)
Rep. Suzan DelBene (D-WA-01)
Rep. Mike Doyle (D-PA-14)
Rep. Bob Goodlatte (R-VA-06)
Rep. Tom Graves (R-GA-14)
Rep. French Hill (R-AR-02)
Rep. Jared Huffman (D-CA-02)
Rep. Zoe Lofgren (D-CA-19)
Rep. Alan Lowenthal (D-CA-47)
Rep. Ben Ray Lujan (D-NM-03)
Rep. Michelle Lujan-Grisham (D-NM-01)
Rep. James P. McGovern (D-MA-02)
Rep. Jimmy Panetta (D-CA-20)
Rep. Tim Ryan (D-OH-13)
Rep. Mike Simpson (R-ID-02)
Rep. Mike Thompson (D-CA-05)
Rep. Fred Upton (R-MI-06)
Rep. Tim Walz (D-MN-01)
Rep. Debbie Wasserman Schultz (D-FL-23)
See your Representative's name listed there? Be sure to thank them and let them know that trails and hiking are important to you! (If you don't know who your Representative is, find out here.)
Don't see your Representative's name listed? Why not ask them to join the Caucus? It's easy and your Representative really does enjoy hearing from you. (Really!) Send them an e-mail (you can include Dear Colleague letter – optional), tell them trails are important to you, and ask them to kindly join the Trails Caucus. No dues are required for the Caucus.
You can find your Representative's contact info at this House of Representatives webpage by just clicking on his or her name. Be sure to let them know they can join by contacting Paul Balmer in Rep. Blumenauer's office at x(5-4811) or Alan Feyerherm in Rep. Fortenberry's office at x(5-4806). That's it!