Wildfire Suppression Addressed in New Bill
June 9, 2017 – A bill (HR2862) that would address the critical issue of funding for wildfire suppression has been introduced in the House of Representatives by Representatives Mike Simpson (R-ID) and Kurt Schrader (D-OR).
Currently, when the fire suppression budgets at the US Department of the Interior (DOI) and the US Forest Service (USFS) are exhausted, the only way either agency can continue to fund the critical work of wildfire suppression, is by "borrowing" funds from other in-house programs – sometimes the very programs which would help alleviate future wildfires. This bill, if passed, would ensure that the suppression of large wildfires is funded similarly to other natural disasters.
While this bill is important for DOI and the National Park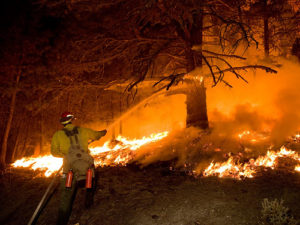 Service, it is especially critical for the USFS for whom wildfire costs have increased from 16% of their budget in 1995 to 56% of their budget in 2016 and are expected to climb still further in future years. This is simply unsustainable if the USFS is expected to be able to function as an agency and fulfill its mission.
As the USFS manages more than 158,000 miles of trails, this is an issue of real concern to the hiking community. Not only does "fire borrowing" prevent fire prevention work, but it also keeps the USFS from conducting trail maintenance that would keep hiking trails open and safe. The legislation, if enacted, would allow the Forest Service to use appropriated funding for their intended purposes, including fire prevention as well as trail maintenance and management.
In the effort to achieve a viable funding mechanism that will help prevent and suppress forest fires, protect lives and property, and protect America's forests and their trails and facilities, American Hiking Society strongly supports the passage of this legislation.