#HikingMakesMe Interview – Bob and Martha Manning
American Hiking Society Ambassadors, Bob and Martha Manning, respond to our #HikingMakesMe interview.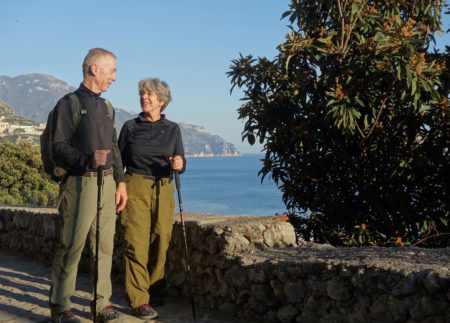 Our names are Bob and Martha Manning. We've been married for many years (or should we say decades?!) and are dedicated hiking partners.

When we go on a hike, we never leave home without…
A strong sense of curiosity – what's around the next bend in the trail? We're also serious about our light-weight equipment that allows us to hike farther and enjoy it even more.
Favorite Books…
Martha's favorite books are adventure stories – like Endurance and Into Thin Air. Our hikes aren't quite as epic as these books, but they're still great adventures. Bob's favorite book is Rebecca Solnit's Wanderlust, a highly original and engaging treatment of the history of walking.
In addition to hiking…
We love to spend time planning our hiking adventures and writing about them.
We would love to trade places with…
We don't really want to trade places with anyone – we're very fortunate to have found each other and to share a mutual love of long-distance hiking. However, we're inspired by many of the great walkers in history – William Wordsworth, Henry David Thoreau, John Muir, Colin Fletcher, among others.
Trail frustrations…
We find it frustrating that many people haven't discovered the joys of hiking. In particular, the long-distance trails we hike are well-maintained and managed and are highly accessible to so many people. We like to call these "extraordinary hikes" for "ordinary people"; you don't have to be young or an extraordinary athlete to walk the trails we describe in our books. But you'll be richly rewarded when you do.
Most people don't know this about us, but…
We've evolved into accomplished hikers, but most people don't know that we were bumbling novices when we were young. We're embarrassed at some of our mistakes and don't want to recount them here in such a public way – but we'll tell you some funny stories if we meet along the trail someday.
Most proud of…
We're most proud of our children whom we introduced to hiking at a very early age. (Read the piece on this in AHS Ambassador Jen Pharr Davis' new book, Families on Foot.) They're now hikers in their own right, walking the Tour du Mont Blanc, the Coast to Coast Trail across England, the Cotswold Way, and lots of trails in their hometowns.
Most desired superpower…
This sounds like a great opportunity. We enjoy discussing issues as we walk and will put this question on our walking agenda.
Favorite meal after a strenuous hike…
Pizza washed down with a glass of local beer. This has been our "go to" dinner all over the world.
Bucket list destinations… 
Though we've hiked long-distance trails all over the world for many years, the list of trails seems to grow longer faster than we can check them off. A couple of obvious blank spots on our hiking resumes include Patagonia and the Himalayas.
Best piece of trail advice…
Walk your own walk, not the walk that someone else thinks you should do. Do you like the challenge of long, hard days on the trail? Fine. Or maybe more leisurely days with time to explore? That's fine too. Like to rough it a little with a backpacking trip? Sure. Or maybe hike from town-to-town, staying in comfortable B&Bs? Why not? We like them all, and choose the ones that best fit our needs.