American Hiking Society partners with notable hikers, community leaders, and activists to promote the benefits of hiking and to inspire more Americans to explore the great outdoors.
Meet the American Hiking Society Ambassadors: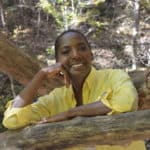 Carolyn Hartfield
Hiker/Adventure Leader/Speaker
Biography
Carolyn Hartfield is an outdoor enthusiast who leads others on hiking, camping, zip lining, cycling, spelunking, tree climbing, whitewater rafting, kayaking — you name it — excursions. This Baby Boomer who is also a senior citizen says she is "Seasoned and savoring in the spices of life!"
Carolyn was 56 when she went on her first hike.  She did not know the hike was going to be a challenging trek up Blood Mountain along the Appalachian Trail. She loved it. Being outside in nature was so exhilarating, she not only wanted to keep hiking but wanted to share her experience with others. "The decision to try something new was one of the best decisions I ever made.  It completely changed my life!"
She was so inspired she felt she had to share this newly discovered adventure with others. To prepare herself, she became a certified outings leader through the Sierra Club, was trained in wilderness first aid through the NOLS Wilderness Medical Institute, became a Certified National Interpretive Guide, and selected as a community partner with REI and the Georgia Conservancy. She also works with the National Park Service in their Trails and Rails volunteer program.
As a result of inspiring others through her online monthly newsletter, she has expanded her influential voice to several thousand followers of her web-based Meetup adventure groups and is a leading voice for seniors, encouraging them to get outside and try new things. Carolyn also has a love for senior Olympic sports, earning medals in various state, national and world competitions.
In 2016 Carolyn represented AARP when she was recognized with a 'Positive Aging Image Award' from the Georgia Institute on Aging.  She has been featured on the CNN/HLN Accent Health Network for her healthy hiking adventures, and in various other media.  Carolyn is currently working on her new book, 'The Joy of Aging' expected to be released in Spring 2017.
When Carolyn speaks to groups, her message is simple: "Get in the great outdoors, try new activities and have fun while getting healthy!"
Learn more about Carolyn Hartfield at her website: www.CarolynHartfield.com
Recent Articles featuring Carolyn
Read our #HikingMakesMe interview with Carolyn
Jennifer Pharr Davis
Author/Hiker
Biography
Jennifer Pharr Davis is a hiker, author, adventure speaker, and 2012 National Geographic Adventurer of the Year. She is the founder and owner of
Blue Ridge Hiking Company
, an Asheville, NC-based guiding service that strives "to make the wilderness accessible and enjoyable" for hikers of all ages, genders, and ability levels. Jennifer has covered over 12,000 miles of long distance trails on six different continents. In 2011, she completed the 2,181-mile Appalachian Trail in forty-six days, eleven hours, and twenty minutes, maintaining a remarkable average of forty-seven miles per day.
As someone who thru-hiked the Appalachian Trail as a twenty-one year old, completed the Colorado Trail as a newlywed, traversed the Spanish Pyrenees as an expectant mother, has hiked in all fifty states with her husband and two year old daughter, and who is currently section-hiking the Continental Divide Trail, Jennifer truly embodies her belief that "the trail is there for everyone at every phase of life." She is thrilled to be an Ambassador for the American Hiking Society, and she looks forward to championing AHS initiatives as she continues her speaking and writing career.
Recent Articles featuring Jen
Read our #HikingMakesMe interview with Jennifer
Kara Richardson Whitely
Author/Hiker
Biography
Kara Richardson Whitely is an author and motivational speaker, has written for
SELF
,
Every Day with Rachael Ray
magazine, and
Runner's World
. She was recently featured on
Oprah's Lifeclass
, and was one of
Outside
Magazine'
s "127 Defining Moments" finalists. Kara has been featured in
Redbook, Backpacker
 and
American Hiker
magazines. She also wrote
Fat Woman on the Mountain
about her first Kilimanjaro trek. Her most recent memoir,
Gorge
, was published by Seal Press in April 2015.
Recent Articles featuring Kara
Read our #HikingMakesMe interview with Kara
Shawnté Salabert
Author/Adventure Seeker
Biography
Shawnté Salabert is a freelance writer and curiosity seeker with a taste for wild spaces. Though based in Southern California, her adventures have taken her across the country and beyond, including the icy summit of Mount Kilimanjaro, the gator-filled swamplands of South Carolina, and the lush trails of Australia's Great Otway National Park. One of her favorite expeditions occurred a little closer to home, however, when she spent nearly two years exploring the Pacific Crest Trail, snapping photographs and recording impressions for her forthcoming book
Hiking The Pacific Crest Trail: Southern California
, released via Mountaineers Books in 2017.
Shawnté currently serves as Senior Writer for outdoor website Modern Hiker; her writing has also appeared on the pixels and pages of Adventure Journal, Moja Gear, Trunkworthy, The Picture Professional, Charleston City Paper, and other outlets. In addition, she's steadily cranking away on a multi-year project called Year of the Scout, is scratching out the beginnings of her next book, and is scheming several thru-hiking, rock climbing, and bike-packing trips for 2017.
When she's not busy making sentences, plotting adventures, or hauling a backpack around, Shawnté volunteers as a trip leader with the Angeles Chapter of the Sierra Club, and serves as an instructor for its Wilderness Travel Course. She enjoys giving back with sweat equity, as well, and has worked on projects with the California State Parks Foundation, TreePeople, and the Pacific Crest Trail Association's Trail Gorillas trail crew. She looks forward to expanding this service work and community outreach in her new role as American Hiking Society Ambassador!
For more information or to follow her adventures visit shawntesalabert.com.
Recent Articles featuring Shawnté
Read our #HikingMakesMe interview with Shawnté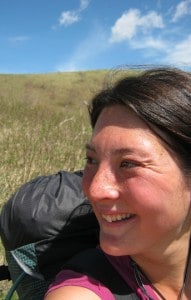 Liz Thomas
Author/Hiker
Biography
Liz Thomas is a well-traveled adventure athlete most known for breaking the women's unsupported speed record on the 2,181-mile long Appalachian Trail in 2011. She has completed the Triple Crown of Hiking–the Appalachian Trail, the 2,650 mile Pacific Crest Trail, and 3,100 mile Continental Divide Trail–and has backpacked over 10,000 miles across the United States on long distance hiking trails. Liz is among the most experienced woman hikers in the country and is known for hiking light and fast. In addition to having a lot of experience hiking, Liz also received a Masters in Environmental Science from the Yale School of Forestry & Environmental Studies and the prestigious Doris Duke Conservation Fellowship for her research on long distance hiking trails, conservation, and trail town communities. Liz has been featured in Backpacker Magazine, the Wall Street Journal, and LA Magazine and has given talks about her experiences at colleges, hiking clubs, and conferences across the country.
Recent Articles featuring Liz
Read our #HikingMakesMe interview with Liz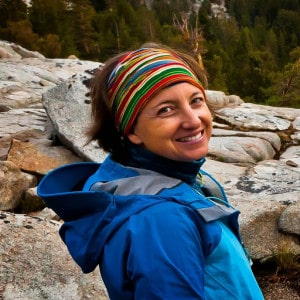 Saveria Tilden
Consultant/Outdoor Educator
Biography
Saveria Tilden has always had an adventurous outlook on life from childhood, preferring to spend time outdoors; she played soccer, rode horses competitively and explored the local woods of her hometown Woodinville, WA. She moved to sunny Southern California to play college soccer and has stayed ever since. She went on to complete 3 Ironman triathlons, hike the Inca Trail to Machu Picchu and summit Mt. Rainer, Tilden then went on to summit Mt. Whitney twice, even completing the more technical and challenging mountaineers route.
Saveria accomplished many of these exciting milestones while working for a marketing company focused on creating public-private partnerships with State Parks and companies, such as Odwalla and The North Face. Saveria helped develop and launch The North Face Explore Your Parks program where she first came across the American Hiking Society (AHS) and started on the path of connecting people to the outdoors. Sharing her love of the outdoors is Saveria's passion and life's work. In addition to volunteering for AHS, Saveria volunteers as a Sierra Club leader teaching their Wilderness Travel Course and leading backcountry trips. Over the past few years Saveria has helped empower over 100 students to pursue their own outdoor adventures. Saveria is also a REI Outdoor School Instructor, teaching a variety of classes including kayaking, SUP, biking, climbing, map and compass/navigation, hiking, backpacking and more. Saveria started her own company, The AdventurUs, and works as an independent consultant for companies and organizations committed to connecting people to the outdoors.
As an American Hiking Society Ambassador, Saveria looks forward to connecting you to the outdoors and bringing awareness to AHS. You can learn more about Saveria and her adventures at www.TheAdventurUs.com
Recent Articles featuring Saveria
Read our #HikingMakesMe interview with Saveria