A Hikers Guide to the Government Shutdown (Updated 9/30/23)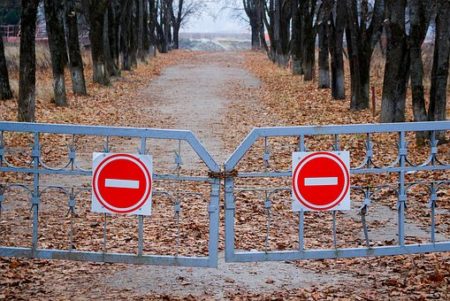 So the government is/might be shutdown, now what?
Your bags are packed, the car is loaded, and you are about to set off on a nice outdoor getaway to enjoy some hiking and fresh air when you hear then news that the government has shut down and you may not be able to access your favorite trail. Don't fear, you can likely still go out and enjoy your hike, but you will be more limited in where you can go, what resources will be available, and who will be there to assist you.
Share your shutdown hiking experience with AHS on Facebook, Twitter (@AmericanHiking), and Instagram (@americanhiking)
Below is a helpful guide to get you through a shutdown.
Bottom Line: Expect widespread closures and limited services on federally managed lands and BE SAFE.
State and Local Parks are not impacted. The shutdown only pertains to the federal government, so any state and local parks and trails should be open for your enjoyment.
Most National Parks will be closed and access severely limited.

A select few parks may remain open, at the discretion of the Park Service Director with non-federal funding.  Check the individual parks operating status. 
Parks will not provide regular road or trail condition updates.
Services and Permits will not be provided. The National Park Service will cease providing visitor services, including restrooms, trash collection, facilities and roads maintenance (including plowing), backcountry and other permits, campground reservation and check-in/check-out services, , and public information.
Very limited staff will be on hand. Staffing will be held to the amount needed for the protection of life, property, and public health and safety.
At parks with areas that are physically accessible to the public – meaning that due to their physical characteristics it is impossible or impractical to restrict public access, including park roads, lookouts, trails, campgrounds, and open-air memorials – these areas will remain physically accessible to the public. This would include the National Mall and Memorial Parks in Washington, D.C. However, staffing levels and services including restroom and sanitation maintenance, trash collection, road maintenance, campground operations, and emergency operations will vary and are not guaranteed.
National Parks and Monuments could close at any time. If visitor access becomes a safety, health or resource protection issue (weather, road conditions, resource damage, garbage build-up to the extent that it endangers human health or wildlife, etc.), the area must be closed.
There MAY be some concessions, but don't count on it. Privately run concessions may remain open at the discretion of the park superintendents.
Bureau of Land Management Recreation Sites and Campgrounds will be OPEN

Campgrounds, boat ramps, and other recreation sites will be open, however, at some facilities the full range of services may not be available including restrooms and water systems. In cases where funds are not available to maintain such services, signs will be posted but visitors may remain at these sites at their own risk.
Public lands will, in most cases, remain accessible to the public but not all services will be available during a shutdown. While it is BLM's goal to provide visitors access to public lands, we cannot provide a full range of services at all locations.
BLM will close and secure visitor centers on public lands unless they are operated
by a third party and do not require BLM staff support. The operation of each facility must be evaluated on a site-specific basis and any contractual requirements.
Volunteer activities may be discontinued in cases where appropriate oversight cannot be
provided.
National Wildlife Refuges and Wetlands MAY be CLOSED

Lands that require federal employee presence will be closed. Land that requires the presence of a federal employee or contractor will be closed, public access to refuge lands that does not require the presence of a federal employee or contractor will be allowed to continue.
Refuge visitor centers and other buildings will be closed to public access.
Forest Service land, including campgrounds, picnic area, boat launches and other developed recreation may be open. 

Forest Service locations may be able to use funds collected from fees to keep campgrounds, restrooms, and other health and safety services open.  However, campgrounds could still close.
Forest Service land should remain accessible for hiking, but visitor centers offices, information stations, and programs are likely closed.
Volunteer activities are discontinued during the shutdown. Volunteers that are housed in Forest Service housing will be allowed to remain there, but will not do any project work or be otherwise compensated.
Recreational Special Use Permits, can continue but may be suspended where public health & safety protection provided by Forest Service personnel is integral to the day-to-day management of the area operated by the concessioner. New permits will not be issued.
Check to see if the park, monument, land, or trail is open before you go.

While it may be difficult to get updates, try calling, check social media, or ask a friend before heading out. Additional information on Department of the Interior (BLM, National Parks, Fish and Wildlife) and the Forest Service plans for the shutdown are available.
MOST IMPORTANTLY STAY SAFE
Article by, Tyler Ray, Director of Policy and Advocacy at American Hiking Society