Breaking Ground to Extend Lost Coast Trail
On the windswept Northern California coast is one of the most rugged, remote and wild places in the state. Great expanses of forest meet wildflower-carpeted bluffs before plunging from rocky cliffs to long, deserted beaches. Here, you can find solitude and escape surrounded by dramatic natural beauty like nowhere else on Earth. This is the Lost Coast.
The legendary Lost Coast Trail brings hikers and backpackers into a stunning landscape so rugged that the Pacific Coast Highway was diverted inland here (hence the Lost Coast's name). With 80 miles of almost completely road-less beauty, it is the longest stretch of undeveloped coastline left in California. And, the spectacular trail that winds along the Lost Coast will soon be getting even better.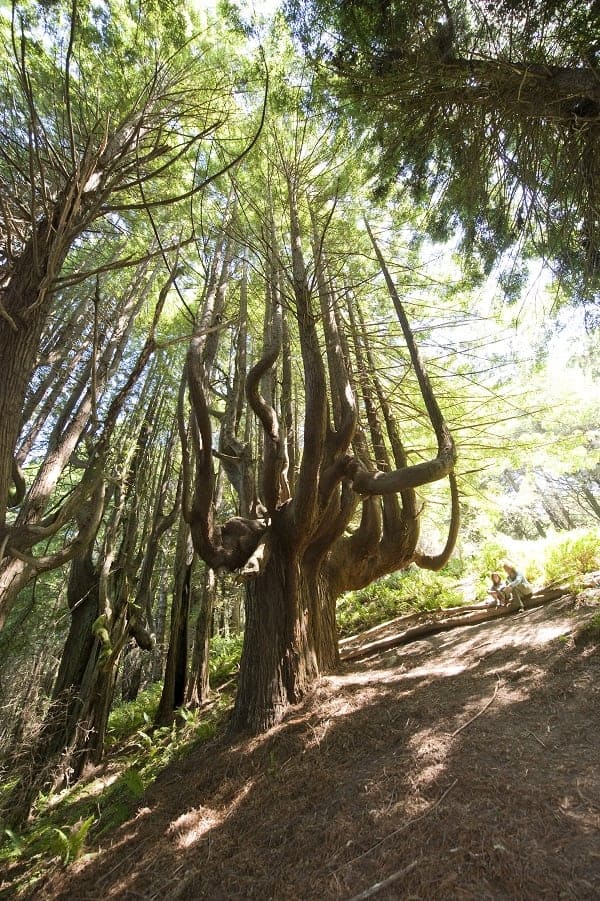 Situated just below the southern end of the trail is Shady Dell, a nearly 1,000-acre property owned by Save the Redwoods League. It's a forested haven with sweeping ocean views, home to imperiled wildlife like salmon, northern spotted owls and marbled murrelets. Shady Dell also shelters a redwood grove that will take your breath away: on a steep hillside stand scores of old-growth redwoods shaped into "candelabras" by salty air and strong coastal winds. The gnarly limbs of this ancient "Enchanted Forest," as it's known by locals, also provide important habitat for wildlife and interesting insight on how climate can (literally) shape forests.
This hidden gem was privately owned for more than 100 years until Save the Redwoods League purchased the property, thanks to the support of our members. After extensive surveys and planning to ensure the protection of all the natural treasures here, we've just broken ground on a trail through Shady Dell. It will add 2.3 miles to the Lost Coast Trail, enabling hikers to continue from neighboring Sinkyone Wilderness State Park into the towering coastal bluffs and magical redwood forest of Shady Dell. We are hoping to open this unique landscape to the public in early 2016 — perhaps you'll celebrate National Trails Day® here soon after!
The League is also working to restore the natural habitat of Shady Dell. Restoration will help the land recover from generations of logging that took place here in the 1800s, 1950s and 1980s. Old logging roads have caused substantial erosion and sediment buildup in the waterways that the forest and its inhabitants, like salmon, need to thrive. We'll help repair the damage left by past human activity, improving conditions for the redwoods and wildlife, allowing the forest community to heal and return to its natural state.
For more on Shady Dell and our restoration and trail work there, visit SaveTheRedwoods.org/project/shady-dell.
Sam Hodder
President and CEO, Save the Redwoods League