Donor Feature: Mike DiFabio
From tackling Fourteeners in the Rockies to hiking the Adirondacks in upstate New York, it's clear that Mike DiFabio loves a challenge, and he's willing to travel to take it on. The National Parks he's visited roll off the tip of his tongue: Kings Canyon, Crater Lake, Mt. Rainier, Badlands, and so many more. While Mike's adulthood is full of wild and rugged outdoor adventures, his childhood was not.
At the young age of four, Mike was diagnosed with Acute Lymphocytic Leukemia. When he should have been running around without a care in the world, he was stuck in an endless rotation of hospital beds. He received chemotherapy, radiation, spinal taps, and experimental treatments. When he finally thought a treatment worked, he would relapse.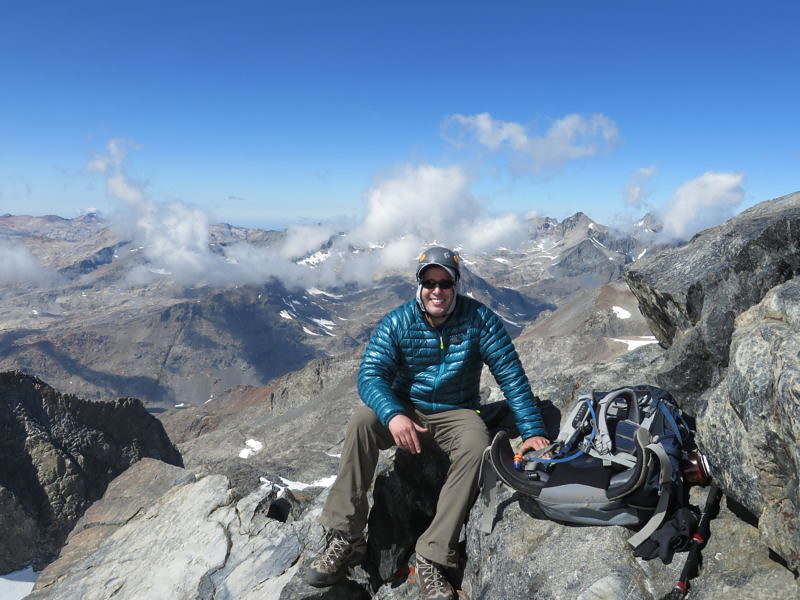 "Each time you relapse, your life expectancy gets cut in half," Mike said. "The first time, it's 50 percent. Then it's 25 percent, and the last time I relapsed my life expectancy was 12 percent." When he was nine years old, Mike and his family received the wonderful news that he was in full remission.
After years of not wanting to discuss the medical traumas of his youth, his outlook entirely changed after learning about Hike for Discovery (HFD) in 2005. HFD was an adventure fundraising program through the Leukemia Lymphoma Society with support from American Hiking Society. Participants raised funds and hiked for several months together to find a cure for Leukemia. After fundraising and training were complete, the participants tested their skills for a challenging trek in the Grand Canyon. Mike immediately signed up for the program and got to work.
Breaking out of his comfort zone, he opened up about his story and raised over $4,500, earning a spot on the coveted trip to visit one of the most iconic landscapes in the world.
Mike and his newly formed friends embarked on a seven-hour hike into the Grand Canyon. After struggling with fragility for years, an unfortunate side effect of cancer treatments, he tackled a physical challenge that in earlier chapters of his life he wouldn't have imagined. Not only was he able to maneuver a difficult hike, but he felt free because he opened up and shared his story with others. No longer shackled by the weight of trauma, he felt as wide open as the cavernous canyon he explored. He was free.
Mike described this trip as if it was an awakening. He realized that it was okay to be curious about what happened to him as a child, to seek understanding of the experimental treatments he endured, and to want to live a bold, meaningful life. This trip restored his love for hiking and for the beauty our country has to offer. This trip changed his life.
In the 16 years since this great awakening, Mike has hiked all across the country. Ask him what his favorite hikes are and he rattles them off like a short-order cook in a small town diner: The San Juan Mountains, The High Sierras, the Cascade Volcanoes. He backs up and then asks a few clarifying questions to better answer the initial question. "What's my favorite hike to see Mountains? Glacier. Or what's a place that people frequently visit at the same time but should be seen on two separate trips? Yellowstone and Teton." It is obvious that Mike is not slowing down anytime soon.
A supporter of AHS for 14 years, he sends annual gifts because he knows there is work to be done on our trails, and he feels aligned with the AHS mission of empowering all to enjoy, share, and preserve the hiking experience. "The more people who can connect and share appreciation, the better."