American Hiking Society Hikes Through History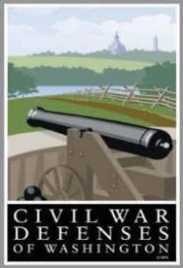 On Saturday July 12th, come join American Hiking (AHS) and the National Park Service (NPS) on a Hike through History to celebrate the great outdoors as well as the 150th Anniversary of the Battle of Fort Stevens in Washington, D.C. The hike will travel from Battery Kemble to Fort Stevens and will showcase the Civil War Defenses of Washington (CWDW) Trail, an important segment of the Congressionally-designated Potomac Heritage National Scenic Trail (PHNST).
The hike will be part of a three-day Civil War 150th Anniversary Commemorative ceremony hosted at Fort Stevens. The events on the weekend of July 11-13 will highlight the role of Fort Stevens in preventing Confederate General Jubal Early from capturing Washington, D.C. The Battle of Fort Stevens holds the distinction of being the only time in United States history that a President in office (Abraham Lincoln) came under direct enemy fire.
When: Saturday, July 12, 2014, 9:00 am – 12:00 noon, rain or shine.  Additional NPS activities at Fort Stevens from 12:00 noon to 4:00pm.
What/Where: 5.0 mile Hike, beginning at Battery Kemble, passing through Rock Creek Park, and ending up at Fort Stevens.
Who: Free to hikers of all ages who are able to hike on dirt paths with some rocks and inclines. The hike is just over a total of 5 miles. A great family hike! No pets, please.
Conditions: 2/3 of the hike is under shaded tree canopy, 1/3 in open sun. 3.5 miles on dirt paths, with some inclines, 1.5 miles on paved trail or streets.
Transportation: Parking at the venue will be limited, so AHS has provided three options. When RSVP'ing to the hike, PLEASE specify which option you will be using:
Park at Battery Kemble (Hike Starting Point): Arrive at 8:30 am, park your car at Battery Kemble, meet up with the group and hike the five miles to Fort Stevens. At 2:00pm, AHS will provide shuttles to return you to your vehicle at Battery Kemble.
Park at Fort Stevens (Hike Destination): Arrive at 8:00 am at Fort Stevens (street parking). AHS will provide a shuttle that will take hikers to Battery Kemble, the hike's starting point, where they will meet with the rest of the group.  Then, the group will take part in the hike, which terminates at Fort Stevens, where the vehicles will be waiting.
Independent Transportation: Battery Kemble and Fort Stevens are within range of Metro rail stations and bus stops. Hikers are welcome to find their own means of transportation. Meet at 8:30 am at Battery Kemble, which is located on Chain Bridge Road, NW in Washington, DC, just off of Nebraska Ave, NW, adjacent to where Foxhall Road north ends at Nebraska Ave., just SW of American University. (https://www.google.com/maps/@38.9295107,-77.0929826,16z).
What to Bring: Good hiking shoes, water, lunch and snacks, hat, bug repellent, rain jacket or umbrella
RSVP (Remember to indicate transportation preference): Contact Dara Zaleski at 301.565.6704 ext. 204 or [email protected].  Please be sure to provide Dara with your cell phone number in case we need to reach you.
For hiking route details, please click HERE
Click to download a copy of the new CWDW Hiker Guide from Fort Reno to Fort Totten.  Note:  This guide contains only part of the July 12 hike from Battery Kemble to Fort Stevens.