#HikingMakesMe – Saveria Tilden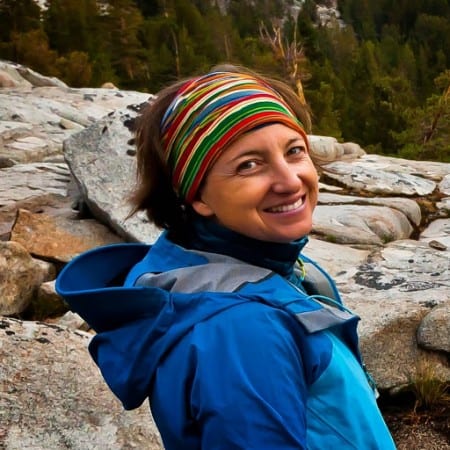 American Hiking Society Ambassador, Saveria Tilden, responds to our #HikingMakesMe interview.
My name is Saveria. I have never had a nickname, but my name does rhyme with my favorite flower, the plumeria.
When I go on a hike, I never leave home without a buff.
My favorite book series since I was young has been the 'Chronicles of Narnia'. I loved the adventures.
In addition to hiking, I love spending time rock climbing.
I would love to trade places with my younger self because I would have the chance to start teaching in the outdoor space earlier.
People not picking up after their dogs on the trail frustrates me, more than anything in the whole world.
People don't know this about me, but I used to be a dolphin trainer.
I'm most proud of completing 3 Ironman Triathlons and starting my own business.
If I could have a superpower it would be to fly because I could get to the trailhead faster.
My favorite meal after a strenuous hike is In and Out burger and a McDonald's soft serve ice cream cone.
Of all the things still to do on my bucket list, I'm most excited about climbing Mt Kilimanjaro and going on a safari.
My best piece of trail advice is hike your own hike and enjoy the experience.
[quote author="Saveria Tilden"]#HikingMakesMe HAPPY.[/quote]