How Trails Get Their Names
The names of hiking trails are often straightforward and self-explanatory — they are chosen for a point of interest, or perhaps a trail leader or volunteer who helped blaze the original path.
But every so often, a catchy or unusual trail name comes along that defies the norm and makes me want to know the backstory. The Boo Hoff Trail in Palm Desert, Calif. The Walter's Wiggles section of the Angel's Landing Trail at Zion National Park. Bumpass Hell Trail in northern California's Lassen Volcanic National Park. Knowing what's behind the name makes a hiking adventure a little more interesting, and lately I've taken it upon myself to learn more about them.
In Southern California, where I do the majority of my hiking, trails are often named for the local scenery (Sycamore Canyon in Malibu), Native American tribes who once called the area home (the Gabrielino Trail in the San Gabriel Mountains), or a local resident who led efforts to restore or build a trail (Amir's Garden in Griffith Park).
The trails in the National Parks system also often take their name from the feature to which they lead, such as a waterfall, viewpoint or historic ruins, says Rita Hennessey, program lead for the National Trails System. Angel's Landing, a popular trail at Zion National Park, for instance, is the name of the stunning 1,500-foot-tall rock formation at the trail's end point. Frankenstein Cliff in New Hampshire's White Mountains is said to be named for a local landscape artist named Godfrey Frankenstein who lived in the area in the mid-1800s.
"Many of these trails were established long before the park service opened, so their names just stuck," she notes. Newer trails, often the result of trails being relocated due to natural disasters, are often named after people who contributed money or time toward the effort, she notes.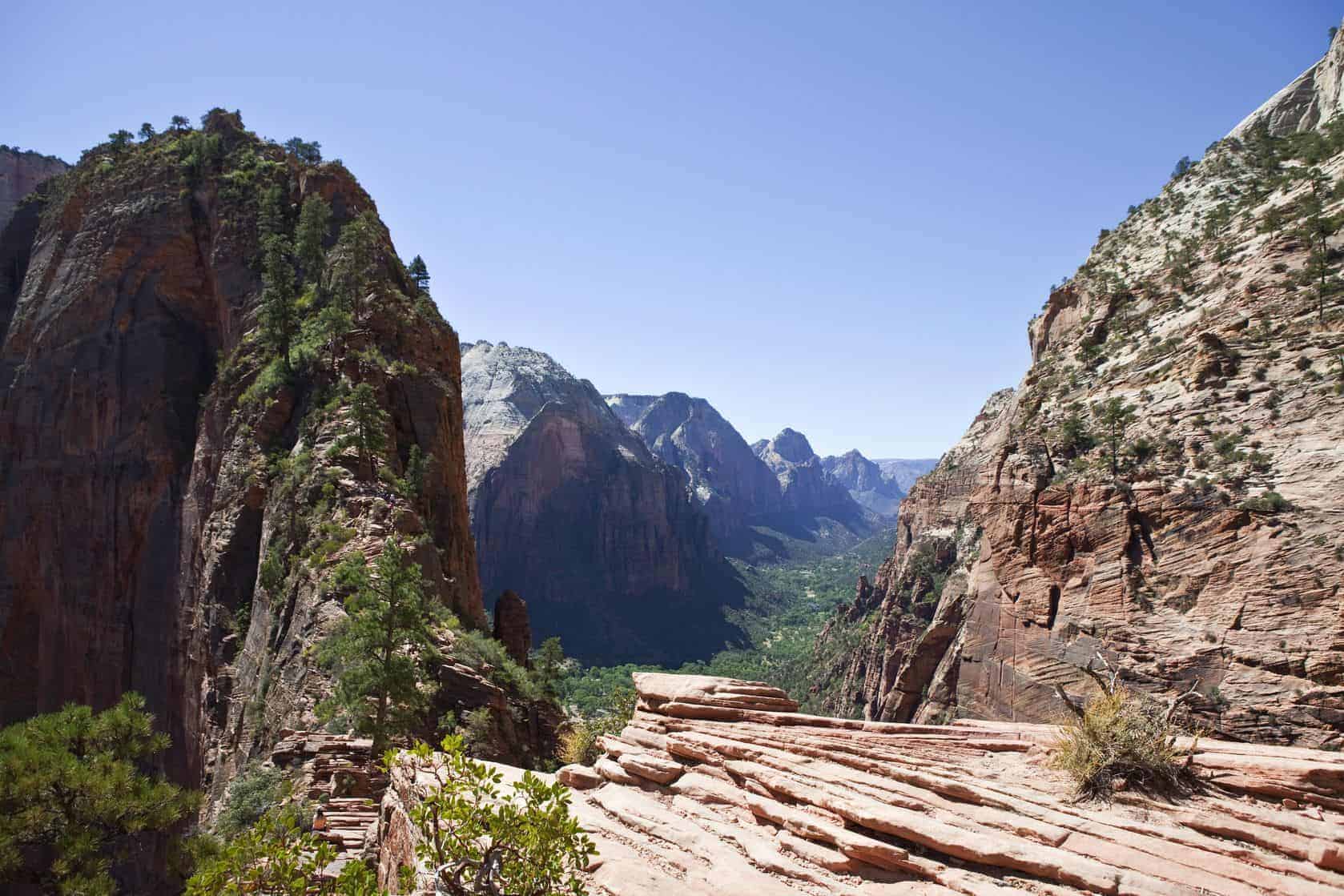 "There are fewer and fewer brand new trails," Hennessey says. "They have all been identified."
Below are some explanations for a few unique trail names out there, and I'm sure there are plenty more that I have yet to come across. Sometimes the story behind a trail name is unexpected or less exciting than you might think, but knowing about it always makes the hike itself a little more distinctive and special.
Boo Hoff Trail, La Quinta, Calif. — The Boo Hoff trail was once part of an ancient Indian trail system in what is now the resort area of La Quinta near Palm Springs. The yucca-and-cactus lined 8-mile trail was expanded and maintained by a maverick group of equestrians called the Desert Riders, who toasted their hard work with booze carried in by packhorse. Boo Hoff was the group's longtime trail boss. His wife, Jane, also inspired a trail name, Jane's Hoffbrau Oasis in Palm Springs.
Walter's Wiggles, Zion National Park — This is a series of dizzying switchbacks on the famed Angel's Landing Trail. Several sources say it was named after Zion's first superintendent, Walter Ruesh, who helped carve the steep stretch out of solid rock in the 1920s. The 21 sharp switchbacks lead to the picturesque plateau for which the main trail is named.
Mary's Rock Trail, Shenandoah National Park, Va. —  http://snptrust.org/2011/11/hundred-mile-club-featured-hike-marys-rock/
This three-mile trail leads to a rocky peak with 360-degree views of the valley. As the story goes, Mary was the daughter of Francis Thornton, owner of land that is now part of the national park. Legend has it that one day she climbed up to the rock and came back down carrying a bear cub under each arm. Another story claims that Francis Thornton once brought his future wife, also Mary, up to the rock to show off the land they would own together.
Bumpass Hell Trail, Lassen Volcanic National Park, Calif. — http://www.nps.gov/lavo/planyourvisit/hiking_bumpass_hell.htm
According to the Park Service, Bumpass Hell was named after an early settler named Nathan Bumpass, who severely burned a leg after falling into a boiling pool. Today, anyone can hike the three-mile trail, which features bubbling mud pots, odiferous sulfur vents and other elements you might associate with an infernal abyss.
A native of suburban Philadelphia, Laura Randall has lived in the Los Angeles area since 1999. Her byline can be found in the Los Angeles Times, The New York Times, Sunset Magazine, and many other consumer magazines and newspapers. She is the author of Peaceful Places: Los Angeles, 60 Hikes Within 60 Miles: Los Angeles, and Day & Overnight Hikes in Palm Springs (all published by Menasha Ridge). A mother of two, she writes about her explorations and discoveries in Los Angeles County (both with and without kids) on HikeswithJack.wordpress.com.