Introducing American Hiking Society's NextGen Trail Leaders
The inaugural class of AHS NextGen Trail Leaders brings together rising stars in the outdoor community from all walks of life and across the country. Through AHS, NextGen Trail Leaders will be the voice of young hikers and speak out to elected officials and the public on the need to protect public lands for all to enjoy and to expand and preserve trail access. The first class of NextGen Trail Leaders features inspiring individuals who have led their own hiking adventures to extend outdoor opportunities to underrepresented communities. Over the course of the year, NextGen Trail Leaders will share these experiences through social media and face to face with their members of Congress and federal agency officials to advocate for public lands and trails and inspire other young hikers to get out and experience what the trails have to offer.
Maricela Rosales
Instagram: @lemarci

Maricela Rosales is an advocate, influencer, and volunteer. As Latino Outdoors' Outdoor Brands & Los Angeles Coordinator, she connects underserved communities to their local state and national parks, organizing monthly outings and expanding accessibility to different types of outdoor recreation by assisting her community and organization to culturally connect Latino families and children to the outdoors as well as support the next generation of Latino leadership in the outdoors.
She's also part of the San Gabriel Mountains Leadership Academy aka Nature For All, which emphasizes civic engagement, community advocacy, and project management in support of local public lands. Upon graduation, she is working on creating a community project called "The Abilities Project," a civic outdoor education access project that connects individuals with disabilities to green and open spaces and emphasizes the importance of engagement in protecting access to the San Gabriel Mountains. She also is part of the Stewards Group which, will assist Nature For All's hard work in advocating for public lands and retaining constituents in environmental and social justice. Maricela brings her nonprofit experience in leadership development and training from her previous work in community outreach and engagement. Her mission is to create a snowball effect that enhances the experience of all communities.
"My exposure to rock climbing, hiking, and other outdoor activities changed the course of my life for the greater good. And because of my own exposure, I want to connect families, youth, and individuals to green and open spaces so that they can be those communities that protect it."
Ron Griswell
Instagram: @NatureBoyRon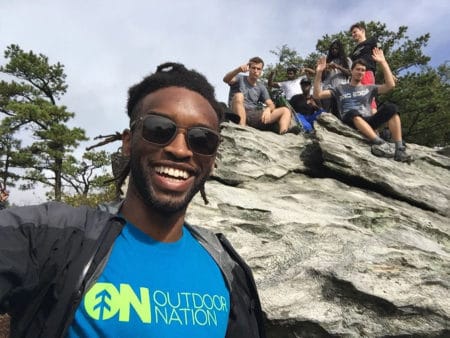 Ron Griswell is from Elizabeth City, North Carolina. In 2011, he took an internship with Wilderness Inquiry (W.I.) in Minneapolis, MN. This internship marked the moment when he became engulfed in the outdoor industry. In Minneapolis, he cut his teeth working for W.I. as he shared many adventures with people from all walks of life. Ron's foundation was built upon experiences like assisting people with disabilities on a 15-day whitewater rafting expedition through the Grand Canyon, and camping and hiking with city youth in the Shenandoah Blue Ridge Mountains. Ron became more integrated into the outdoor space after becoming a Natural Leader with the Children and Nature Network, and a Bridge To Tomorrow Fellow with the Association of Partners for Public Lands. After seeing the lack of diversity in his day-to-day line of work and in multiple outdoor conferences, a flame was ignited to make a change. Ron re-enrolled at North Carolina Agricultural & Technical State University, a predominately black institution of higher learning, where he is currently a graduating Senior, studying Business Management while hosting outdoor recreational activities as the Program Assistant for the Campus Recreation Center.
Tyler Lee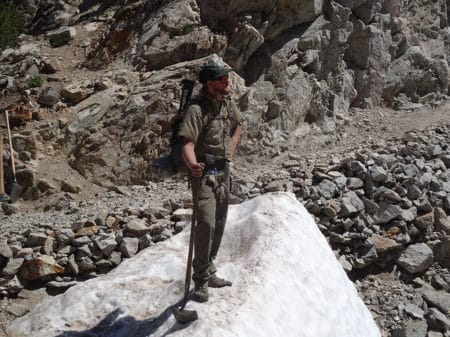 Tyler Lee has worked in the outdoor conservation industry for over 6 years; he currently works seasonally for the U.S. Forest Service as a Wilderness Ranger in the Sawtooth National Recreation Area (SNRA). He is passionate about public lands, stewardship, and importantly, is compelled to make a difference in the hiking community. Tyler has helped bring to fruition and served as a project manager for the Wilderness Stewards program in Central Idaho – a collaborative effort between the USFS and the Idaho Conservation League to connect the public with their lands in a stewardship capacity. Before Tyler was a Wilderness Ranger, he worked as an AmeriCorps trail crew leader establishing the next generation of outdoor enthusiasts. Tyler is currently pursuing a Masters degree in Integrative and Public Lands Management at Western State Colorado University. His thesis project benefits the Aspen Sopris Ranger District of the White River National Forest and will lead to the efficient and effective implementation of a new Overnight Visitor Use Management Plan. Even though he is not a horseman, Tyler will soon begin a policy internship with the Back Country Horseman of America during which he hopes to bolster their capacity and learn more about conservation policy. Tyler has been an avid volunteer on trail maintenance and restoration projects; serving as a volunteer crew leader, crew member, pack animal support, and occasionally camp cook with AHS Alliance of Hiking Organizations members such as the Rocky Mountain Field Institute, Selway-Bitterroot Frank Church Foundation, and the Idaho Trails Association. Tyler has a deep connection to the outdoor community and is highly invested in the next generation of outdoor advocates. When he is not on the trail, you can find him with his skis on in the high alpine.
Liz 'Snorkel' Thomas
Instagram and Facebook: @lizthomashiking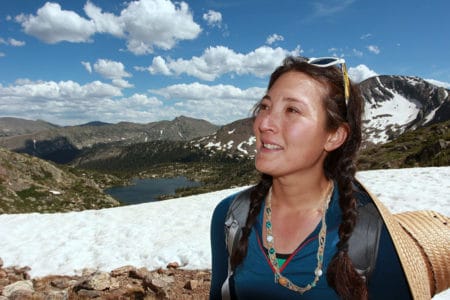 Liz Thomas is among the most experienced female hikers in the U.S. and is known for backpacking light, fast and solo. In 2011, she broke the women's unsupported speed record on the 2,181-mile long Appalachian Trail, besting the previous record by almost a week. She's the author of Long Trails: Mastering the Art of the Thru-hike, which won the National Outdoor Book Award calling it destined to become the "bible of the sport."
Liz has backpacked over 15,000 miles across the United States on 20+ long distance hikes, including the pioneering traverse of the Chinook Trail across the Columbia River Gorge and the pioneering traverse of the Wasatch Range, which she did solo. Liz has also hiked the Triple Crown of Hiking–the Appalachian Trail, the 2,650 mile Pacific Crest Trail, and the ~3,000 mile Continental Divide Trail.
Liz is affectionately known as the "Queen of Urban Hiking," having thru-hiked and/or pioneered routes up to 250+mile routes in six cities across the U.S. She is an advocate of getting people to hike "what they got" by taking to city streets and parks.
In her time not on the trail, Liz attained a Masters in Environmental Science from the Yale School of Forestry & Environmental Studies and the prestigious Doris Duke Conservation Fellowship for her research on long-distance hiking trails, conservation, and trail town communities.
Liz has been seen on Good Morning America and in The Wall Street Journal, Yahoo! News, Men's Journal, Women's Health, Outside, and Gizmodo. She is a regular contributor to Backpacker Magazine and the instructor for their six-week online class, Introduction to Thru-hiking. She gives presentations about long distance hiking around the country, especially to college outdoor clubs like the one where she first learned how to backpack.
Liz is honored to serve as Vice President of the American Long Distance Hiking Association-West and as an ambassador for American Hiking Society. When not hiking, Liz lives in Southern California and is a staff writer for the Wirecutter, part of the New York Times.
Dakota Jackson
Instagram: @thisfabledstreet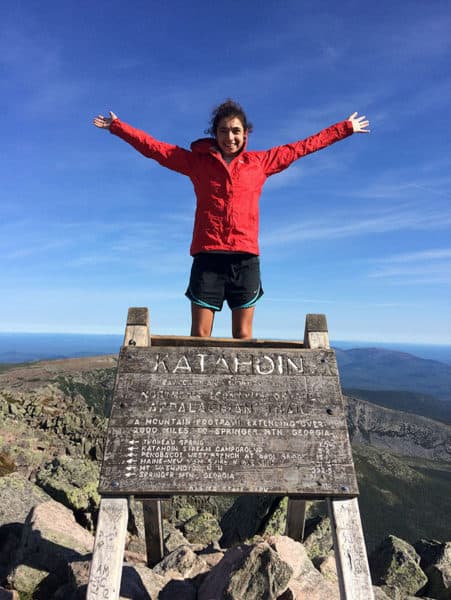 Dakota has hiked and traveled throughout Europe, South America, and the U.S. After receiving her degree in Archaeology from Bryn Mawr College, Dakota thru-hiked the Appalachian Trail in 2015. While on the Trail, she wrote for the website the Trek and participated in Kincora Hardcore trail maintenance. After earning her M.A. in Archaeology in London, Dakota lives in Boston, where she works as a Museum Collections Specialist, working to engage a more diverse and youthful audience in museums and American history. In her free time, Dakota enjoys hiking in New England and petting as many dogs as possible on the trail.