Reflections on National Trails Day 2015
By: Saveria Tilden, American Hiking Society Ambassador
Community | Conservation | Commitment
There is always something nice about traveling on Los Angeles freeways early on weekend mornings- no traffic, stress free, easy going, time to enjoy the scenery. I woke up early on Saturday, June 6th excited to be heading to my first National Trails Day® (NTD) event volunteering as an ambassador for American Hiking Society. According to my GPS it was going to take me about 90 minutes to get there and I didn't want to be late.
I live close to the Angeles National Forest and the new San Gabriel Mountains National Monument. Heading east I was able to enjoy the morning light warming the familiar mountains on my left, Henninger Flats, Mt Wilson, and my other familiar hiking areas. With no traffic I was soon passing the exit I often take to go hike Mount Baldy and Cucamonga Peak. Continuing eastbound, the San Bernardino National Forest appeared in the distance with San Gorgonio nestled in the background, but these were not my destination today. I turn off on Hwy 330 heading toward Big Bear. Quickly the urban sprawl disappears and I am winding my way into the wilderness only 30 or so minutes into my drive. For the next hour I drive higher and higher, twisting and turning, trying not to get distracted by the abundance of wildflowers on the sides of the road.
In Running Springs I head east on Hwy 18, known as the Rim of the World Highway, towards Big Bear. There is a great moment when the mountains drop off to the right revealing how high you are above the valley below and just as you are marveling at the view you come around the corner and see Big Bear Lake nestled high in the mountains. It is truly spectacular. I continued along the lake before turning off for the Aspen Glen Picnic area, arriving at my destination for the day.
COMMUNITY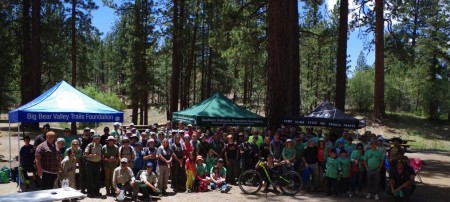 I saw my REI team and jumped in to help set up. Most Saturday's I am teaching for REI as an Outdoor School Instructor.  This Saturday I was volunteering my time and representing two of my communities… my REI family and American Hiking Society. I specifically chose this NTD event to be able to help these two groups in supporting the Southern California Mountains Foundation (SCMF), U.S. Forest Service, Big Bear Valley Trails Foundation, and the Snow Summit Bike Park. As we were setting up the REI booth, volunteers from these various groups gathered to be assigned as trail project leaders to the various projects along the Pine Knot Trail. I couldn't help but notice the hugs and hellos of old friends as they gathered. As the other volunteers checked in many asked who the project leaders were and requested the groups being headed up by their friends. I was really struck by how close this community was and how many people knew each other. The family-friendly, happy vibe flowed throughout the growing crowd. Over 100 volunteers showed up to support their community in addition to the USFS team, the foundation teams, and the Big Bear Hotshots!
CONSERVATION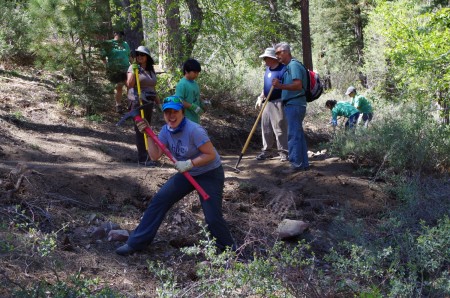 The Pine Knot Trail offered projects ranging from easy to strenuous providing opportunities for volunteers of all ages from little kids to adults. Volunteers were able to choose the type of project they wanted to help with. Everyone was able to participate and contribute to helping improve the trail. One family with two little girls came out to help because they wanted the girls to learn the importance of taking care of the trails that they like to hike on. This for me embodied what NTD is all about, supporting and enjoying our local trails because they make a difference in our lives. Gloves, helmets, and tools were distributed and we headed to the trails to work on our various projects. The trail transformation that happened in just a few hours through the collective power of people coming together was truly inspirational. Lunch was provided after the work ended and everyone hung out enjoying the beautiful weather, feeling proud of the work that was accomplished together.
COMMITMENT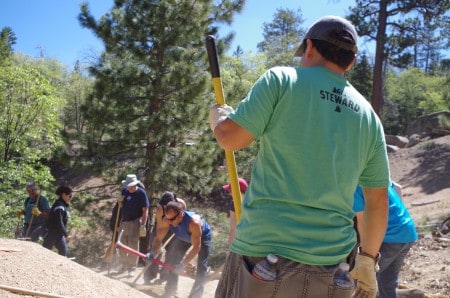 The local foundations putting on this event, like so many others doing similar work, are committed to working together protecting the local natural resources and educating others about enjoying our natural places responsibly. Non-profits and foundations are built on partnerships. REI has supported the Southern California Mountains Foundation through grants over the years and helping with joint National Trails Day® events. Many of the volunteers arrived at NTD proudly wearing their REI stewardship shirts from last year's event, some even had shirts dating back 3-4 years. They were excited to get this year's shirt and talked about the event as something they look forward to doing each year. I couldn't help but think that this event was just one of thousands happening across the nation… people of all ages, from many different communities, all showing their passion and commitment to trails through various National Trails Day® Events. How awesome that this event has been happening for 23 years and will happen next year and the year after! I am looking forward to being a part of this tradition year after year and giving back to the trails that have given me so much.
---
Saveria Tilden is a consultant and outdoor educator committed to outdoor participation and exploration. You can learn more about her at www.TheAdventurUs.com
[spoiler open="0″ title="Recent Articles featuring Saveria" style="1″][show_posts tag="saveria-tilden" type="excerpt" excerpt_words="8″ limit="3″ paging="false" orderby="date" order="DESC" offset="0″ post_type="post"]
[/spoiler]