American Hiking Welcomes Fall Interns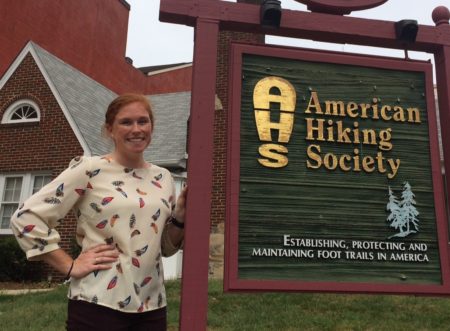 American Hiking Society is thrilled to welcome Claire Morris to the team as a fall intern!
Claire graduated from James Madison University with a B.S. in Geology and later received a Master's degree in Environmental Management and Sustainability from James Madison University and the University of Malta. She discovered a passion for service while participating in JMU's Alternative Break Program. She is also an outdoor enthusiast and avid traveler. Claire hopes to use her education and experiences to engage people in outdoor recreation while promoting sustainability and conservation.
Favorite Hikes: Old Rag Mountain, Shenandoah National Park, VA
---
American Hiking Society is also thrilled to welcome Ben Skach to the team as a fall intern!
Ben is a Senior at Tufts University, where he is studying political science and mathematics. Growing up in Oregon, he learned to appreciate the outdoors through hiking, backpacking, and mountain climbing. After become fascinated with politics during middle and high school, he has pursued this interest through his major, extracurricular activities, and work as an intern on a senator's campaign last summer. At school, he is an active member of the Tufts Mountain Club, through which he enjoys hiking and rock climbing. American Hiking Society combines Ben's passion for the outdoors with his interest in public service. He hopes not only to gain experience and knowledge this autumn, but also to help give back to trails that he has benefited from across the country.
Favorite Hike: Mount Jefferson Wilderness, Oregon
These internships are supported in part through a generous grant from the National Park Service.