Places to Hike with your Dog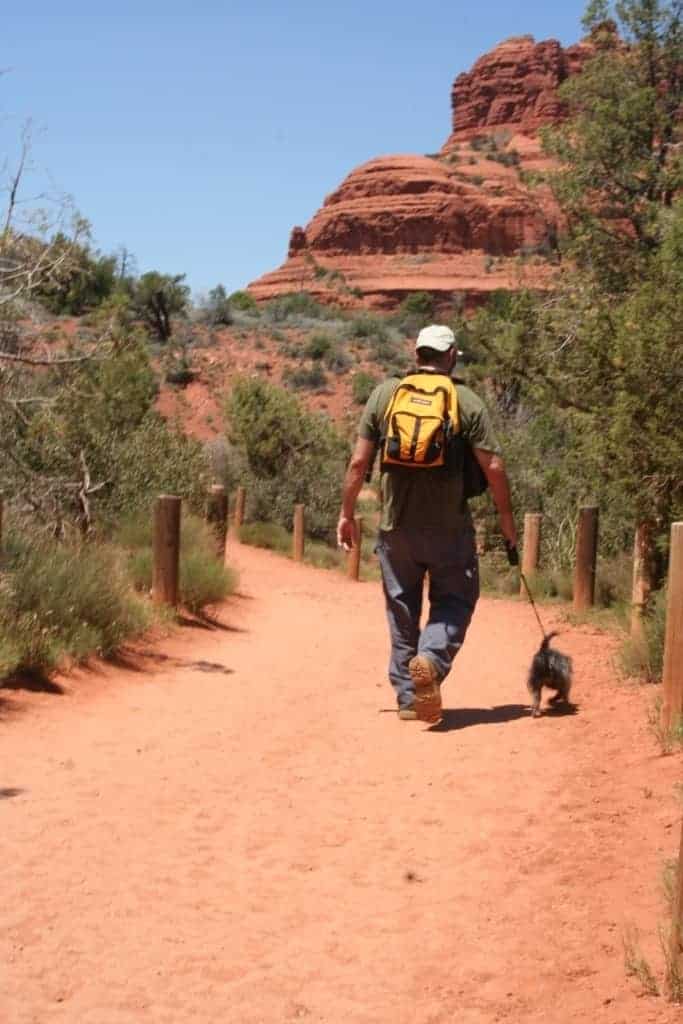 You and your dog are eager to hike, and have gathered all of the items that both of you will need. So your next question might be, where do we go? America is covered with hiking trails that are great places to hike with a dog, but dogs aren't permitted on every trail so check before you go. See our list of resources below to help you find dog-friendly trails.
Dog-Friendly Trails
There are so many canine-compatible hikes across the country that it would be difficult to identify the very best ones. So, instead of making a "top ten" list, we've chosen a few hikes that will give you a hint of the variety of dog-friendly trails in our country, particularly those you will find near some of America's major metropolitan areas.
Guidebook Recommendations
Many regional or city-specific hiking guides will identify dog-friendly trails, including the 60 Hikes within 60 Miles series by Menasha Ridge Press. Most of the guidebooks within this series contain a handy list of canine-compatible trails in the "Hiking Recommendations Section" at the front of the book. In addition, the books in the Best Hikes Near series by FalconGuides include information about canine compatibility in the table of specifications for each of the trails included.
Websites
The Internet can also be a great source of information about places to take your dog. Some websites, like www.petfriendlytravel.com and www.dogfriendly.com, maintain listings of dog-friendly beaches and overnight accommodations.
Guidelines for Federal & State Lands
National Parks and Monuments
In general, pets are only permitted in National Parks along roadways, in developed areas, and in campgrounds. Pets must be restrained on a leash no longer than 6 feet in length. Though pets are usually not allowed on the unpaved, backcountry trails in National Parks, there are some notable exceptions:
Devil's Postpile National Monument, CA;
Acadia National Park, ME;
Shenandoah National Park, VA; and
Devil's Tower National Monument, WY.
National Forests
America has nearly 200 National Forests, and they contain a large number of dog-friendly trails. Pets must be on a leash at all times while in developed recreation areas. Dogs are permitted on National Forest trails, but are not permitted in swimming areas or sanitary facilities. Visit our Helpful Links section for links to the Forest Service and state forest websites.
State Parks
Policies vary from state to state and often even from one park to another within the same state. Visit our Helpful Links section for links to state park websites.
County, City, and Regional Parks
Often these parks will have canine-compatible trails, though policies will vary. Check with your local Department of Parks and Recreation for more information.
Hikes in Arizona
Phoenix area:
Camelback Mountain: Summit (Echo Canyon) Trail. (The following information was extracted from 60 Hikes Within 60 Miles: Phoenix by Charles Liu.) Perhaps the best in-town hike in Phoenix, Camelback Mountain offers a central location, a rigorous climb of 1,264 feet to its summit, rugged sandstone cliffs, a 360-degree panoramic view from the top, and a chance to see the perfect sunset. Whether you're a resident or a visitor, this hike is a must-do.
Directions: From Loop 202: Exit onto 44th Street and drive north 4.5 miles. Follow 44th Street as it bends eastward into McDonald Drive. As McDonald Drive bends north into Tatum Boulevard, turn east onto McDonald Drive, and then immediately turn south onto Echo Canyon Parkway. Parking is available inside Echo Canyon Park or along Echo Canyon Parkway.
Hikes in California
San Diego area:
Los Penasquitos Canyon Preserve: East End to Waterfall Loop. (The following information has been extracted from 60 Hikes within 60 Miles: San Diego by Sheri McGregor.) While the 3,720-acre Los Penasquitos Canyon Preserve is known for its equestrain and mountain biking, it's also known for its creek, waterfall, and bicycle free paths, and is a favorite of San Diego urbanites.
Directions: Take I-15 to the Mercy Road exit and head west. Black Mountain Road intersects Mercy Road, and runs straight into the East End parking lot and equestrian center. Maps are available by request at the ranch house or from patrolling rangers.
San Francisco area:
Mount Burdell Open Space Preserve. (The following information has been extracted from 60 Hikes within 60 Miles: San Francisco by Jane Huber.) A favorite of dog-walkers and runners, Mount Burdell offers gorgeous, easy-moderate hikes in Marin County through grasslands in Olompali State Historic Park.
Directions: Leave San Francisco northbound via the Golden Gate Bridge on US 101; use the Golden Bridge toll plaza as the mileage starting point. Drive north on US 101 20 miles, take the San Marin Drive/Atherton Avenue exit. Drive west on San Marin Drive 2.5 miles, turn right onto San Andreas Drive. Continue uphill for a half mile, then park on the right side of road near the open space gate. Download the Mount Burdell map before you head out.
Hikes in Colorado
Boulder/Colorado Springs/Denver area:
Garden of the Gods: Perkins Central Garden Trail. (The following information has been extracted from 60 Hikes within 60 Miles: Denver and Boulder by Kim Lipker.) A must-see location, Garden of the Gods contains several beautiful rock formations, many visible from the Perkins Central Garden Trail.
Directions: From Denver, take I-25 south to Colorado Springs. Take exit 146, turn right onto Garden of the Gods Road, then turn left onto 30th Street into Garden of the Gods Park. Turn right onto Gateway Road, right again on Juniper Way Loop, and left into the north main parking lot.
Hikes in Georgia
Atlanta area:
Stone Mountain Loop Trail. (The following information has been extracted from 60 Hikes within 60 Miles: Atlanta by Randy and Pam Golden.) "This hike features multiple views of Stone Mountain and the Confederate Memorial (the world's largest carving), a gristmill, covered bridge, streams, and lakeshore."
Directions: Take 1-285 East to Exit 39B, Stone Mountain Freeway East (Snellville, Athens) and drive 7.8 miles to the exit for Stone Mountain East Gate. The road curves right, then comes to a gate. After the gate, this road is known as Jefferson Davis Drive. Continue one mile to where the road splits. Bear left and merge onto Robert E. Lee Boulevard. Follow it one mile to Confederate Hall. Turn left and park. Request the hiking map when purchasing your parking pass.
Hikes in New Mexico
Albuquerque area:
Glorieta Canyon. (The following information has been extracted from 60 Hikes within 60 Miles: Albuquerque by Stephen Ausherman.) A favorite of equestrians, hikers, and mountain bikers, this canyon escape offers a chance to see abandoned mines and old relics.
Directions: From I-25 north, take Exit 299 at Glorieta. Turn left to cross the bridge over the interstate, then turn left again, following the signs to the Glorieta Conference Center. The main entrance is less than a mile from the exit. Stop at the security gate for a map and directions to the hiker parking lot. If the gate is not manned, turn right and follow the signs 0.5 miles to guest registration at New Mexico Hall. Trail maps and advice are also available at the reception desk. From there, drive about 0.25 miles north on Oak Road to the hiker parking lot. Walk across the bridge then up to the right, past the service area and into the RV park. A wooden box with a hikers' logbook is located on the right side of the road. Continue north along to the road to the end of the RV park. Turn left to go through a locked gate; the trail begins here.
Hikes in New York
New York City area:
Bear Mountain Doodletown Circuit. (The following information has been extracted from 60 Hikes within 60 Miles: New York City by Christopher and Catherine Brooks.) "High-country meadows, distant vistas, rugged mountain climbs, and the overgrown ruins of an old village are among the many highlights of this tiring yet delightful calorie-burner of a hike."
Directions: Drive north on the New York State Thruway (I-87) over the Tappan Zee Bridge, taking Exit 13 onto the Palisades Interstate Parkway north. Leave the Parkway at Exit 19 to reach Seven Lakes Drive. Proceed for a half mile to the trailhead parking on the right, along a bumpy, partially paved road. Buy a trail map at the park office.
Hikes in Pennsylvania
Pittsburgh area:
Riverview Park. (The following information has been extracted from Best Hikes Near Pittsburgh by Bob Frye.) Once an amusement park, today Riverview Park offers a delightful chance to enjoy nature near the downtown area.
Directions: Take US Highway 19 (Marshall Avenue) north to a T, then turn left onto Perrysville Avenue (still US 19 north). Turn left onto Riverview Avenue to enter the park. Maps are available from Pittsburgh Parks and Recreation.
Hikes in Utah
Salt Lake City area:
City Creek Canyon. (The following information has been extracted from 60 Hikes within 60 Miles: Salt Lake City by Greg Witt.) This popular multi-use trail begins in the heart of the city and ends at the City Creek Nature Preserve, where hikers, joggers, bikers, and more can see wild animals including mountain lions.
Directions: The hike starts at the northeast corner of State Street (US 89) and North Temple, just a block from Temple Square. You can also start the hike farther up the canyon by driving to the City Creek Nature Preserve entrance area.
Hikes in Washington, D.C.
U.S. National Arboretum. (The following information has been extracted from 60 Hikes within 60 Miles: Washington, D.C. by Paul Eliot.) This world-renowned 446-acre arboretum near the Anacostia River is primarily a research center. "However, for those of us who know, it's also a spacious and exotic recreational area that can dazzle the senses, intrigue the mind, restore the spirit, and exercise the body of the receptive hiker."
Directions: From downtown Washington, D.C., take New York Avenue NE (US 50) heading out of town. Turn right onto Bladensburg Road. Drive about 0.4 miles and turn left onto R Street, which ends in 0.2 miles at the arboretum's main entrance. Drive through the gates to parking lot.