Sentiments From Shirley — a 26 Time Volunteer Vacation Participant and Crew Leader
Learn what sparked Shirley's desire to volunteer, and how that led to their long-time commitment to leaving the trails better with American Hiking Society.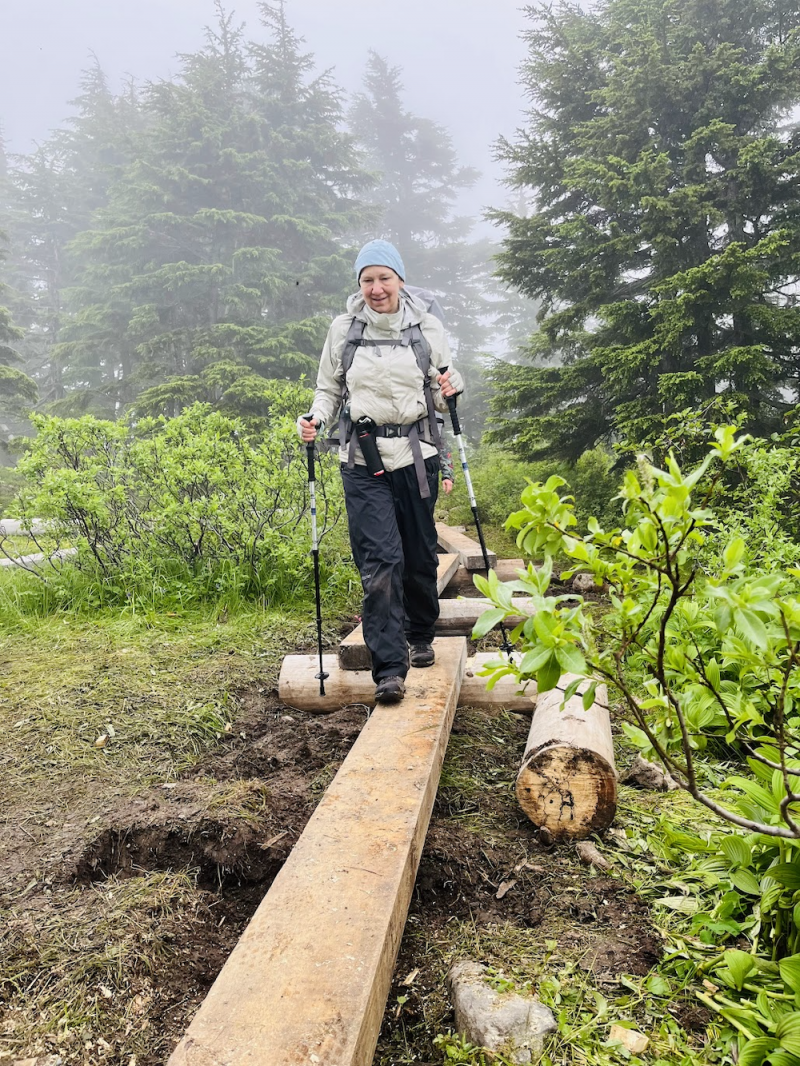 Perhaps we should add a disclaimer to our Volunteer Vacations — once you join us for your first trip, you'll want to keep returning for more! We're forever grateful to our volunteers (whether it's their first trip or their 26th!) who help us on our mission to build a nation of kick-butt trail stewards looking to give back to the trails they love to explore.
The truth is, the trails need us as much as we need them (if not more). Our Volunteer Vacations provide a unique opportunity for hiking enthusiasts to participate in meaningful and impactful trail maintenance and building projects across the country. These trips help hikers build a legacy that will bring outdoor adventures to others for years to come.
American Hiking Society Board Member Heather Distad chatted with Shirley Banks, who has joined AHS on an incredible 26 Volunteer Vacations and is now also a Volunteer Vacation crew leader.
Read about how Shirley came to find AHS's Volunteer Vacations, and what drove them to come back time and time again. We hope Shirley's sentiments inspire you to join us on a Volunteer Vacation, too!
—
When and how did you become connected with the American Hiking Society?

Sometime in 2006, I was day hiking in north Georgia with a friend. We were talking and wondered, "Wouldn't it be great to volunteer and work on trails, I'd love to do that!"
I realized that no one was going to pound on my door and ask me to sign up — if I wanted to do it, I needed to make it happen. I started exploring options and found plenty of Volunteer Vacations through AHS that were within driving distance, the price was reasonable given the support. I thought I'd give it a whirl.
I continued volunteering, and a couple of years later did a trip to Mt. Baker in Washington and it was amazing. The crew leaders really understood the project and how to work with people, welcomed volunteers, and worked safely with realistic expectations. Over time I have seen AHS move and progress, they are always improving. Every staff person builds on the last person in that role. Not every organization does that.
In your opinion, what is the most important work that AHS does? Or, what aspects of our work interest you the most?

What immediately pops to mind is bringing people together in outdoor spaces. Both components are very important.
You see this work show up in the Next Gen and Alternative Break programs and certainly in Hike the Hill, and grants, in addition to Volunteer Vacations. I spend most of my time on Volunteer Vacations.
We live in such a time of social division, to have a space to bring people together from all walks of life and be of service to our country and the land itself is really special. If we can build good trails to keep hikers on trails and mitigate the environmental harm that we are doing, that's worthwhile. AHS's environmental good and harm reduction, bringing people together, is fantastic — the affordability of the vacations is really important, too, to keep it as accessible as possible.
What is your fondest memory that exists because of AHS?

So many!! I'm coming up on 27 Volunteer Vacations.
I remember in Olympic National Park, we had our gear hiked in with llamas, it was so exciting. We were doing meadow restoration and hardening of the trail. My abs were sore from laughing so much — everyone on the trip cracked each other up! It was gorgeous and away from the distractions of everyday life. Being in that gorgeous place and laughing so hard together was so much fun.
Another time, on Mt. Baker — I was looking out to the mountains and meadows towards Canada, it just made me cry, it was so beautiful. I felt honored to be there and give back.
When I first started leading crews, I posted on Facebook to let people know that I would be leading if they wanted to go. My friend from college joined in and came along with his sons for six or seven Volunteer Vacations. That is really special. There are several people I've seen on multiple trips. This fall in Moab, a crew member who has been on four trips I've led will be learning how to be a crew leader. We're co-leading.
I love the places I get to come back to year after year, to see how work holds up — it is really rewarding.
How would you describe our organization or mission to a potential donor or volunteer?

AHS is the voice for hiking trails in the United States — through the Volunteer Vacation program, advocacy, and supporting other hiking/trail organizations. It's not a hiking club; it's a resource for trails, hikers, and land managers.
Do you have any advice for us to keep you as a supporter and inspire others like you to join our mission?

As a crew leader, I have total confidence that if I need something, AHS will be there for me. I know I'm going to be supported as a volunteer. It's a lot of work being a volunteer leader and I wouldn't do it if I didn't feel supported by the organization!
What I love about what AHS is doing, is really looking at how to make Volunteer vacations accessible and inclusive, continuing to find ways to reach out to young people, which they are doing a wonderful job with with special programs. I'm very proud of the organization for being strategic in diversifying the leadership, donors, and volunteers.
I'm curious, though, what happens after land acknowledgments? Then what? We need to be good listeners and good followers. On a related note, trail work on a good day is fun and inclusive. On a bad day, it can feel macho sometimes. Need to figure out how to dismantle that — gender expression and identity, sexual orientation. MAYBE there can be some deliberate work on AHS's part.
Is there anything else you would like to share?
To anyone wondering about Volunteer Vacations, give it a whirl, you're going to love it!!
We're so grateful for Shirley and the continued time and effort they put into protecting and preserving the trails. Interested in learning more about Volunteer Vacations? Click here for more information and to explore upcoming trips.