2013 National Trails Fund Projects
Every year, American Hiking Society (AHS) awards National Trails Fund (NTF) grants to members of its Alliance of Hiking Organizations. To receive a trail building grant, applicants must demonstrate a need for project funding, and prove that by completing the project they can improve accessibility and/or safety for end users.
The National Trails Fund was created in response to the growing backlog of trail maintenance projects and has helped hundreds of grassroots organizations acquire the resources needed to protect America's cherished hiking trails. To date, American Hiking Society has funded 182 trail projects by awarding over $500,000 in National Trails Fund grants. National Trails Fund grants are made possible by generous support from L.L.Bean, MSR and Therm-a-Rest, the program's charter sponsors.
Congratulations to the 2013 Grant Recipients:
Friends of the North Carolina Museum of Natural Sciences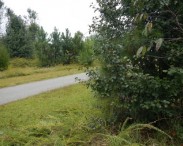 Location: Raleigh, NC
Mission: To enhance the public's understanding and appreciation of the environment in ways that emphasize the natural diversity of North Carolina and the southeastern United States and relate the region to the world as a whole. Prairie Ridge Ecostation furthers the Museum's mission of enhancing public understanding and appreciation of the natural environment while acting as a mode for renewable and sustainable energy. The mission of the Friends of the North Carolina Museum of Natural Sciences is to support the Museum's educational programs, exhibits and research through membership fund-raising and advocacy.
Project: Prairie Ridge Ecostation, the NC Museum of Natural Sciences' field station will be building the Prairie Ridge-Reedy Creek Greenway Connector. The award-winning Reedy Creek Greenway is part of the Capital Area Greenway System, an 81-mile network of open spaces and recreational trails operated by Raleigh Parks and Recreation. The Greenway is widely used by local residents and located just 350 yards from Prairie Ridge, however, there is no direct access to the network of trails in the ecostation. The project will ease access to the trail, a pedestrian entrance, and informational kiosk, constructed as an Eagle Scout project.
Use of NTF: The funds will be used for procuring the materials required to prepare the connector trail between the Reedy Creek Greenway and Prairie Ridge Ecostation's trail network, construction of a new entrance and kissing gate to Prairie Ridge, informational signage, bike rack, and plantings to landscape the new entrance and bring attention to it by greenway users.
Friends of Stroud Open Space and Recreation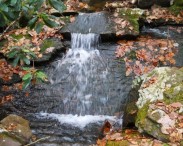 Location: East Stroudsburg, PA
Mission: To support recreational, educational, environmental and cultural opportunities for all who live and work in the Stroud Region.
Project: This trail construction project will bridge a critical gap in linking two public parks with each other and the larger regional greenway and trail system. Despite their proximity, no hiking trail links Pinebrook Park across a small wedge of private property to Brodhead Creek Park to the south with its connection to the larger Levee Loop Trail system. A trained corps of volunteers will construct the trail using purchased materials and rented equipment enabled by this grant award, matched by a local source of trail improvement funds.
Use of NTF: Funds will be used to purchase trail building materials, equipment rental, and costs associated with the purchase of context-sensitive, regionally-identified directional signage already developed.
International Wildlife Refuge Alliance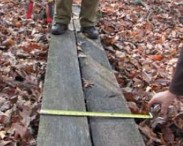 Location: Grosse Ile, Michigan
Mission: To support the Detroit River International Wildlife Refuge by working through partnerships to protect, conserve, and manage the Refuge's wildlife and habitats; and to create exceptional conservation, recreational, and educational experiences to develop the next generation of conservation stewards.
Project: Improve an existing trail in an area leading to an old-growth oak-hickory forest of oak trees over 300 years old. Volunteers will remove, replace and add fixed-planked boards over common wet areas to provide a dedicated path to preserve the soil structure and protect ephemeral plants.
Use of NTF: The funds provided will secure the materials needed.
Girdwood, Inc.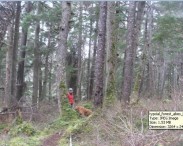 Location: Girdwood, Alaska
Mission: To promote, maintain and enhance the Girdwood Valley trail system.
Project: Abe's Trail, a popular hiking trail that rises through the forest to tree line, is now in desperate need of maintenance. High winds have made the trail impassable with numerous spruce and hemlocks downed and covering the trail. Girdwood, Inc. will clear the trail of windfall to improve hiker safety during summer 2013.
Use of NTF: The NTF will be used to buy new equipment that is needed to complete the project and will enable us to purchase new chainsaws and safety gear.
Hui Aloha Kiholo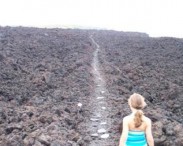 Location: Kamuela, Hawaii
Mission: To protect, perpetuate, and enhance the cultural and natural landscape of the Kīholo Bay area through collaborative management and active community stewardship.
Project: This project will formalize five major historic trails and add one new connector trail into an integrated system within Kīholo State Park on the Island of Hawaii. Coastal and inland trails will be depicted on a brochure to be available to park visitors and as a download from the Hawaii State Parks and Hui Aloha Kīholo websites. A trailhead sign will inform visitors about the unique physical and cultural features of the trail system and provide safety information against relevant hazards. Regular Hui Aloha Kīholo volunteers will build a new half-mile trail consolidating existing trails into a loop system.
Use of NTF: The funds from NTF will go towards signage: final design adjustments, fabrication, and protective treatments. The money will also be used for brochures and will produce enough copies for one year. The rest of the NTF will go to volunteer support, including food, beverages, and gloves for volunteers.
Friends of Sloppy Floyd State Park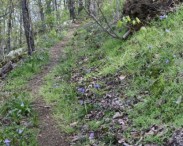 Location: Summerville, GA
Mission: To provide state parks and historic sites with knowledgeable and responsible volunteers to assist in providing visitor services, clerical assistance, interpretive skills, or educational leadership, and to enhance the recreational experience of others by maintaining or improving the grounds and facilities that they use.
Project: Friends of Sloppy Floyd State Park will create the first and only backcountry hiking trail in James H. Floyd State Park. The state currently has only allotted funds to maintain existing structures and trails and has made no room for expansion. The NTF grant will provide funding for trail creation, signage, maps and new campsite development.
Use of NTF: The NTF will be used to provide the materials needed.
Northeast Arkansas Master Naturalists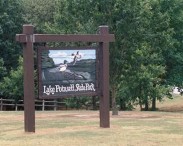 Location: Jonesboro, Arkansas
Mission: To develop a corps of well-informed volunteers to provide education, outreach, and service dedicated to the beneficial management of natural resources and natural areas within our communities.
Project: Lake Poinsett State Park will add a new interpretative loop trail located in the undeveloped property on the south side of the park. Northeast Arkansas Master Naturalists will add 1.25 miles of trail which will join into the existing Great Heron Trail. All trail work will be performed by volunteers of the Northeast Arkansas Master Naturalists in conjunction with park staff.
Use of NTF: The grant will be used for equipment. The additional tools provided with these funds will not only speed the construction of this trail it would enable NEAMN to maintain the trail at this park and the ten other parks that are in our area.
Friends of Van Cortlandt Park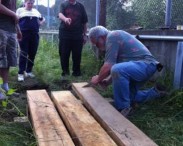 Location: Bronx, NY
Mission: To actively promote the conservation and improvement of Van Cortlandt Park through environmental education and restoration and enhancement of the Park, its forests and trails.
Project: The Friends of Van Cortlandt Park (FVCP) will be installing a 100 foot boardwalk along a trail off of the Bridal Path in Van Cortlandt Park (VCP) as part of the implementation of our recently created Trails Plan. This boardwalk will allow Park users, especially birders and hikers, to safely transverse this popular trail which runs along the border of a wetland. FVCP has built similar boardwalks on the John Muir and Cass Gallagher Trails and have received positive feedback from both the Parks Department and Park users.
Use of NTF: The National Trails Fund will cover the expenses of tools and materials necessary to build the boardwalk.