2015 National Trails Fund Projects
Congratulations to the National Trails Fund 2015 Grant Recipients.  And special thanks to charter sponsor L.L.Bean, without whose support, the National Trails Fund grant program would not be possible. The following members of the Alliance of Hiking Organizations will receive funding for their projects:
Volunteers for Outdoor Colorado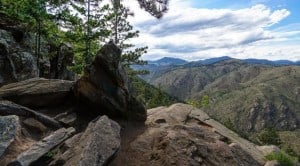 Beaver Brook Trail is a historic 8.65-mile hiking only trail that begins just north of Genesee, west of Denver, and winds northeast to Windy Saddle on Lookout Mountain. VOC will undertake a one day 100-120 volunteer project to build 3,000 feet of new hiking trail from a new Beaver Brook Trailhead/parking area to the existing trail system. The new trailhead will be easier to find from I-70 and is designed to accommodate many more vehicles so use of the Beaver Brook and other connecting trails is expected to increase significantly, to approximately 20,000 annually.
This project will significantly improve regional hiking trail connections in the Front Range area directly west of the Denver –Metro area. The new trailhead will offer more recreational access to the park, also known for its original herd of buffalo from Yellowstone Park, and will heighten awareness and use of the historic Beaver Brook Trail. Indirectly the trail project will provide environmental benefits in that Denver Mountain Parks will be closing a portion of road and some social trails from the existing parking area.
The Ice Age Trail Alliance will conduct three large-scale volunteer events at two separate locations resulting in the construction of over a mile of sustainable side-hill trail through glacial terrain (Rib Lake area) and build 200 feet of elevated boardwalk through a wet area (Chequamegon National Forest). Boardwalk construction will include a hands-on training component where volunteers learn why and how to properly construct elevated boardwalk to federal and state standards. The projects are Mobile Skills Crew events, a nationally recognized volunteer leadership and trail building program of the Alliance. Volunteer contributions will total approximately 5,000 hours.
This project creates a new hiking opportunity through constructing and opening a new section of the Ice Age National Scenic Trail for public use near Rib Lake. Interpretation of the glacial landscape further improves the outdoor recreation experience by adding a layer of knowledge to the hiker. The trail reroute design minimizes wetland impacts by eliminating trampled vegetation and preventing soil erosion. This, along with dry boots, improves the hiker experience in the Chequamegon National Forest.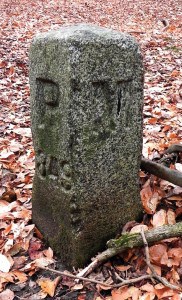 This project is a continuation of an effort initiated in 2013 to construct a 4 mile loop trail from the Delaware White Clay Creek State Park (WCCSP) Nature Center to the Mason-Dixon Tri-State Marker and return to Arc Corner Road to connect to existing trails in the WCCSP. The 1.7 mile northern segment of this trail was completed in 2014 with 47 different volunteers working 1600 hours and 3 Eagle Scout Projects at a total cost of $14,400. This phase will construct the 1.7 mile southern segment starting at the Tri-State Marker and traveling eastward to Arc Corner Road.
The establishment of an official circuit trail access to the Tri-State Marker will provide further recreational and education opportunities and generate interest in the history of the Mason-Dixon survey and the Tri-State borders. In addition, this project will provide access to a Mason-Dixon monument from the 193 mile Mason-Dixon Trail that passes through three states and connects the Appalachian Trail with the Brandywine Trail. Impact on water quality will be minimized through use of sediment retention silt fences in areas that have loose dirt near stream crossings or where there is a lot of earth disturbance. Where possible, the trail will be constructed on naturally draining areas and frequent grade reversals will be utilized to eliminate rain water running down the length of the trail. Trail treads will be a kept to nominal 30 inches wide to minimize environmental impact and still provide adequate hiking comfort.
There are a myriad of social trails that have been established in this area as neighbors and hunters wander through the area without a well-defined trail. The new trail will be routed around portions of the existing social trail that drain poorly, cross streams at oxbow bends, or are built on fall lines and will focus pedestrian traffic onto a single sustainable trail. This will minimize the environmental impact to native plants and waterways and will improve access into the area to implement an invasive plant management program and permit the cleanup of several old farm dump sites
Montana Wilderness Association – GALEN ROWELL AWARD for excellent back-country project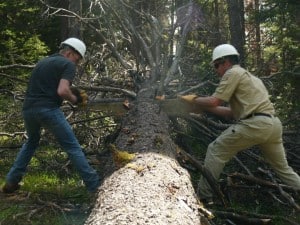 Montana Wilderness Association's CDT Montana program is the lead steward of the Continental Divide National Scenic Trail's northernmost 980 miles. This section from Yellowstone to Glacier boasts some of the most scenic hiking and the best-preserved ecosystems along the CDNST. However, only 60% of this section is complete and many of the existing trails need repairs. CDT Montana engages volunteers in on-the-ground stewardship to maintain and connect the trail. MWA will purchase tools and equipment to use on 14 trail projects that will utilize 140-160 volunteers to improve trail sections of particular need as determined by federal land management agencies.
The CDNST Comprehensive Plan details the purposes of the trail as established by Congress: "high quality, scenic" non-motorized recreation and "to conserve natural…resources along the CDNST corridor." Our projects help the federal government achieve these commitments. Our work directly improves access to high quality, scenic recreation, resulting in improved trail users' experiences. Volunteers learn about the corridor's role in wildlife connectivity and are encouraged to join MWA's efforts to conserve natural resources along the trail. By maintaining the trail and empowering citizens, CDT Montana is working to improve the recreation experience and protect natural resources along the Great Divide.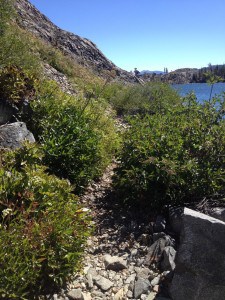 The Backcountry Trail Restoration Project aims to address critical maintenance needs on remote and difficult to access sections of the Tahoe Rim Trail. The Tahoe Rim Trail Association will address these needs through multi-day backcountry volunteer work camps. The two destinations for the TRTA's Backcountry Trail Restoration projects are some of the most highly impacted areas on the Tahoe Rim Trail. The TRT near Armstrong Pass serves as the uphill for the world famous 'Mt. Toad's Wild Ride' downhill biking trail and the two other camps are located in Desolation Wilderness, the most visited wilderness area in the country!
Project Benefits: The TRTA will improve recreational access for over 100,000 annual users by ensuring open and safe trail. Major work projects will address stream crossings and failing rock retaining structures. A significant amount of basic maintenance will remove overgrown brush, clear water bars, repair drainage, and reduce erosion. The work will also improve natural resources that are being impacted by wide, braided trail. It will also reduce run off from the trail by slowing the water and shedding it earlier which is vitally important in the Lake Tahoe Basin Watershed where lake clarity and sediment run off are critical issues.
Sheltowee Trace Association will construct an urgently-needed set of pressure-treated wooden stairs meeting USDA Forest Service approval as part of the trail at Van Hook Falls (near London, KY) to traverse approximately 100 feet with a 60-foot elevation gain. They will also install an observation platform overlooking the waterfall and stairs to cross approximately 20 feet of trail at the top of a new section of trail at Mill Branch near Morehead as access to the Forest Service Road. Additional directional signs (meeting USDA Forest Service standards) will be installed at pivotal trail crossings.
Improving the aforementioned section hazards will decrease unsatisfactory trail experiences and potential risk of accidents while increasing hikers' ease of passage and navigation through the area. Enhancements to the footpath will minimize the steepness of the exposed grade, stabilizing its sloped ascent and improving its safety while restricting traffic to a set route, thereby preserving the natural contour and reducing erosion by disturbing the land as little as possible. The improvement will allow a broader range of fitness opportunities for enjoying these sections of the trail while protecting the pristine natural resources.
Roaring Fork Outdoor Volunteers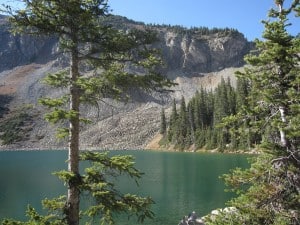 The Cathedral Lake/Electric Pass project, in the Maroon-Snowmass Wilderness, is a popular and heavily used trail, affording hikers from around the US and world, spectacular scenery as it traverses the fragile alpine environment, elevation 9,880-11,866 feet. This Forest Service trail is 13.2 miles NW of Aspen Colorado and has seen minimal maintenance over the years resulting in significant resource damage. The three day project will utilize RFOV's resources and volunteers to reconstruct, repair and restore damaged sections of this trail four to five miles in from the trailhead.
This spectacular and fragile landscape has suffered considerable resource damage that continues to worsen through erosion and trail braiding. This project will stabilize and reduce erosion and resource damage by improving trail drainage, trimming encroaching vegetation and closing and restoring the trail braids. Hikers will have better footing, a trail clear of vegetation and a good definition of the trail system, providing a safer and more aesthetically pleasing hiking experience. Long term preservation of the resources, sustainability of the trail, and maintaining public access to this landscape are the top goals of our project.