2016 National Trails Fund Projects
Congratulations to the 2016 National Trails Fund Projects. A special thanks to charter sponsor,

 without whose support, the National Trails Fund grant program would not be possible.
The following members of the Alliance of Hiking Organizations will receive funding for their projects:
Victor Hiking Trails – New York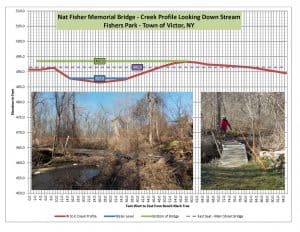 Replace an old, unsafe bridge over a creek in a town park. The existing bridge is deemed unsafe by the town. Nat Fisher, a past resident of Victor and board member of Victor  Hiking Trails continued to repair the old bridge until his passing two years ago. We will remove the old bridge and replace it with a new bridge, built to new standards and to a height that will not restrict the flow of the creek during spring flooding. The success will be measured by the number of hikers that will be able to enter the park by way of this trail.
The old bridge is too low, restricting water flow in the spring and getting damaged. The new bridge will be safer and will be higher.
Gorge Preservations Society – Texas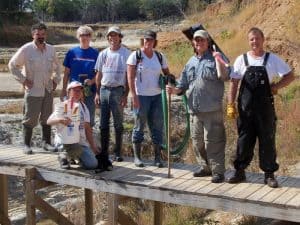 The 2015 Flood washed out a 30-foot wooden bridge in the Gorge that provided tour participants a must safer way to get across a gully the past seven years. This grant would provide the materials cost of the bridge. Gorge Volunteers "Trailblazers" would provide the labor to build the bridge. This would provide a safer experience for all by providing a much safer trail in the Gorge.
Friends of Blackwater – West Virginia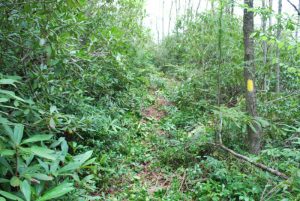 Volunteers will restore key trails on the Monongahela National Forest overlooking Blackwater Canyon. The project will open up 8 miles of trail, improve tread on Canyon Rim and Limerock Trails with 1,000 volunteer hours to increase visitation and improve the recreational experience on the northern MON. We will improve tread on these trails to reduce erosion and steepness making the trails more sustainable which will improve access to Blackwater's unique ecology.
The Clinch Coalition – Virginia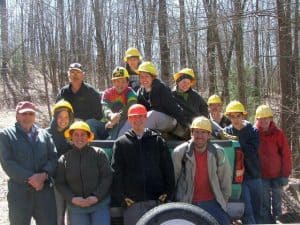 The Clinch Coalition will work in partnership with local and regional organizations, volunteers, and the United States Forest Service to enhance existing trails by installing an informational kiosk and additional trail signage along the High Knob Trail System; specifically, on the Chief Benge Scout Trail and the Devil's Fork Trail. We will also work with our partners to continue to promote the region as a premier hiking destination.
To increase accessibility of the Chief Benge Trail and Devil's Fork Trail TCC will work to improve trail conditions through six trail work days with an estimated ten volunteers each day for a total of 300 volunteer hours. (10 volunteers at 5 hours over 6 days)
– To provide critical information for hikers and visitors to the area.
TCC will purchase materials and provide volunteer labor for the construction of one informational kiosk for the Devil's Fork trailhead. We will construct and install 15 additional signs along both trails for directions and promoting conservation.
-To increase hikers to the High Knob Trail System
TCC will unveil the new features through a coordinated e-blast, Facebook posts, and informational materials. TCC will promote at least two hikes for the public. We will host a two-day hike of the 19 mile Chief Benge Trail on National Trails Day, providing attendees with dinner and breakfast. This summer we will partner with the first 100k run of the trails of High Knob. In October we will host the Hellbender 10k race. All hikers will receive educational information about the other trails on High Knob, conservation best practices, and nature facts on Southwest Virginia.
By improving the trail system, we increase public awareness of our unique forests. High Knob is home to one of the most biologically diverse forests in the country, with both southern and northern forest ecosystems. Our area is home to over 400 species of rare and endangered plants and animals. With the addition of information kiosks and increased signage along the Chief Benge Scout Trail and Devil's Fork Trail, we will highlight the rare and sensitive plants in the region, and promote conservation and best practices for hikers.
With over 1,500-acres and 6,000 monthly visitors, Red Mountain Park (RMP) offers a unique, historic setting for trail-users of many interests and abilities. RMP will expand its 14-mile trail system by 3.75-miles, extending two current trails – Ridge Walk Trail and BMRR North Trail (former rail bed)– highlighting scenic views and historic destinations, and newly-construct the Sand Ridge Trail, traversing a small creek and connecting to a nearby meadow. Trail work is performed by volunteers and staff, and includes installation of updated trail way-finding signage. The project will dramatically improve trail connectivity and accessibility for everyone, including visitors using mobility devices.
Expand current trail system to offer new routes, connections and improved accessibility to trail-users. Improve visitor experience, ease of use and navigation throughout the Park's 17.75-mile trail system. Engage Community Volunteers to promote buy-in and ownership of the Park's land preservation efforts.
In addition to offering beautiful, well-maintained trails, RMP provides visitors with innovative and unique recreational experiences, including treetop adventures, a 6-acre off-leash dog park, historic iron ore mining destinations and scenic tree-houses. As RMP's trail system expands, the opportunity to introduce new active/passive recreational activities improves. Future developments could include, equestrian trails, disc golf, and treetop camping.
Additionally, trail use and access is a critical component of the success of RMP's Forest Management Program which is removing non-native, invasive vegetation via volunteers and a hungry herd of 150 goats while replacing re-mediated sites with beautiful native plants.
Southeast Conservation Corps – Program of the Conservation Legacy – Tennessee
Chickamauga & Chattanooga National Military Park Sherman Reservation, the 30-acre adjacent undeveloped public land, and the urban, vulnerable Glass Street neighborhood need to work in concert to allow residents access to space. By commissioning Southeast Conservation Corp youth work crews to construct a new trail connector, the resulting new outdoor facility will provide: (a) a much needed easy access point to the 50 acre Sherman Reservation from the community, (b) usable local natural space for youth to discover hiking and (c) improved facilities that will increase Sherman Reservation visitation during the National Park Service's Centennial Celebration.
(a) Commission Southeast Conservation Corp local youth work crews to construct a new 2-foot-wide, 1.5-mile-long walking trail to use for both recreation and to increase access to Sherman Reservation.
(b) Engage diverse people of varying ethnicity and ages to be a part of this project as both change agents and hikers.
(c) Attract hikers from the region to discover new national parks by connecting existing facilities in an environmentally friendly way.
(d) Spearhead interest of local leaders to increase the size of the trail network with a goal of connecting the vulnerable community to the larger existing trail network. The goal is to attract funding from local foundations to produce an official plan.
(e) Raise the awareness of how partnerships can succeed in a substantial, environmentally appropriate trail building project within a year time period. The goal is to attract a minimum of 5 funders from outside of the Chattanooga area. We have already secured commitments from National Park Foundation, National Park Service Cost Sharing, National Park Service Rivers, Trails & Conservation Assistance, and the Sierra Club.
As part of the National Park Service "Find Your Park" Centennial efforts, we are working with partners to educate the public in conservation, public space facilities, and facilitating outdoor recreation experiences. One of our shared goals is to encourage diversity. We want people of color to discover safe outdoor recreation from both the construction and user standpoint. With the Sierra Club, National Park Service and Conservation Legacy involvement, natural resource protection is at our core. This project is of interest because it will connect usable public land by a foot trail that is currently inaccessible except by motorized vehicle.
Absaroka-Beartooth Wilderness Foundation – Montana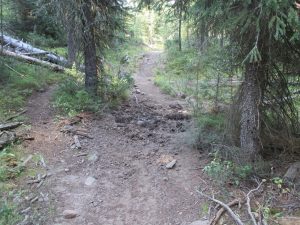 The Russell Creek/East Rosebud Trail is the most popular trail in the 944,000-acre A-B Wilderness area. Commonly called "The Beaten Path," this 26-mile trail connects Cooke City to the cabin community of Alpine, and along its course crosses high alpine terrain and a series of lakes and waterfalls. The introductory section of this trail is unfortunately a nearly impassable quagmire of mud, exposed roots, an ever-widening trail, much overused by horse- and foot-traffic. The ABWF intends to marshal volunteers and other partners to help the Forest Service fix this trail, installing a raised turnpike and protecting it with lateral drains.
We will apply good stewardship practices to help the Forest Service improve an important 1 to 2-mile stretch of trail. To enlist volunteers to do the trail work; it is our foremost intent to build a much deeper connection between citizens and their public wildlands. To work alongside a Forest Service trail crew; the public thereby sees how hard they work, and come to appreciate the important role of our public land agencies. To introduce volunteers, perhaps for the first time, to the outstanding resource that is the A-B Wilderness. To provide healthful activity in a beautiful outdoor setting. To strengthen our partnerships with the Forest Service, Backcountry Horsemen, Guest Ranches, and those who live in the area. Adding a turnpike and drains to a wet, muddy section of trail will immediately dry out and make an impassable trail enjoyable to move through once again. This is the only bad stretch of an otherwise iconic trail. Results will be noted by 1000's of wilderness users every year. It will put an end to many years of costly temporary fixes (adding fill to swampy sections, reroutes). The improved trail will improve relations with nearby guest ranches that provide horseback riding options.
The area we intend to fix is incredibly braided with alternative pathways forced by users trying to skirt around wet/muddy sections of trail. The Forest Service has rerouted the entire trail, but even the reroutes become deeply wet and muddy as well. The area gets trampled by horseback riders from local guest ranches, so vegetation does not grow here. It's like a rodeo ground, a hundred feet wide in places and awfully unappealing, even dangerous. Installing a turnpike and drains is the only way this shaded area will dry out and recover the aesthetic of the rest of the trail.
Arizona Trail Association – Arizona – GALEN ROWELL AWARD for excellent back-country project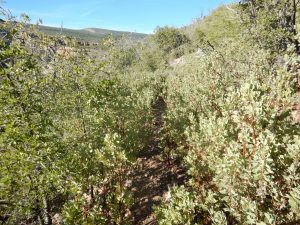 The passages of the Arizona Trail traversing the Mazatzal Wilderness receive infrequent maintenance due to their remoteness – the same characteristics that make it so appealing to locals and international visitors alike. The trail is currently impassable from overgrown brush, fallen trees, eroded tread and missing directional signs. The Arizona Trail Association is partnering with Arizona Wilderness Coalition and staff from the Tonto National Forest (TNF) to organize students from Arizona universities and community colleges to participate in two week-long efforts to restore 20 miles of the Arizona Trail within the Mazatzal Wilderness.
The goals for this project are to increase visitor safety and improve accessibility. Currently, much of the trail is impassable and do not meet National Scenic Trail standards. Successful completion of this project will include the removal of over 80 downed trees, clearing the trail corridor to equestrian standards (6 ft. wide by 10 ft. high), and repairing trail damaged by erosion. We will engage 20 volunteers during two one-week backcountry volunteer experiences, log a total of 1,200 volunteer hours, and positively impact 20 miles of trail. We will provide safe and meaningful stewardship experiences for young people and encourage their involvement into the future. TNF staff will assess the results of our work to ensure that the restoration project meets or exceeds USDA Forest Service standards for trails
Brushing the entire trail corridor will improve accessibility, aid in navigation, and allow visitors to enjoy their wilderness experience. Lack of a clear corridor is already resulting in numerous off-trail impacts, such as formation of social trails. Properly maintained trails are highly sustainable and limit the need for off-trail hiking, which can negatively impact natural resources and scenic values. Visitors will experience trail conditions that encourage their ability to enjoy the resource and navigate without unnecessary risk. Due to the high frequency of archaeological sites throughout the Mazatzal Mountains, keeping visitors on the trail and minimizing off-trail impacts is vital.