Great.com interviews American Hiking Society About Preserving Trails and Making Hiking More Inclusive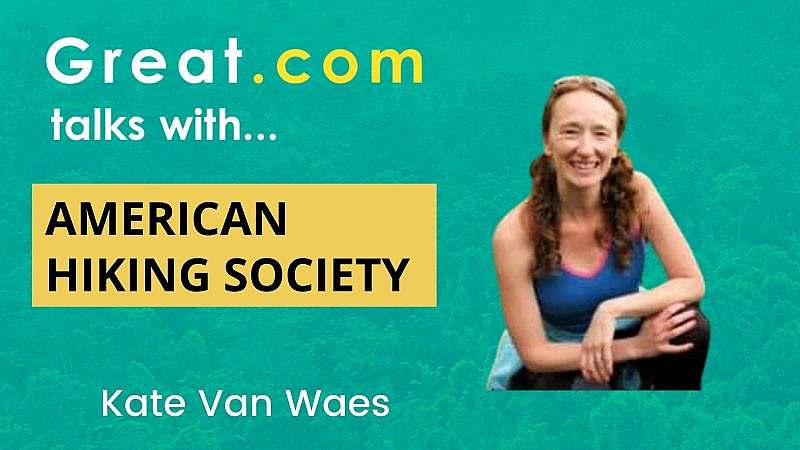 Ryan Nurse from Great.com interviewed Kate Van Waes, Executive Director of American Hiking Society as part of their 'Great.com Talks With…' podcast. This series aims to shed light on organizations and experts whose work is making a positive impact on the world.
Millions of people don't have access to a safe and quality hiking experience. Because of racism and bigotry, people don't feel safe going outside. Poor trail maintenance is another challenge that impacts the hiking society. In this episode, Ryan talked with Kate Van Waes, Executive Director at American Hiking Society.
We are a nonprofit organization with two missions. The first is to protect and maintain hiking trails, and the second is to make hiking an inclusive activity.
We work with Congress, Capitol Hill, and federal agencies to protect outdoor trails. Our organization has been around since 1976 with the mission of protecting natural areas and making hiking accessible to everyone. Hiking is one form of meditating. Being in nature is calming and healing. One of our biggest projects is National Trails Day. The event is held each year and attracts millions of community members from all over the US. The goal of the event is to preserve and maintain trails and give permanent access to anyone who wants to hike.
Great.com is an innovative charity project working to solve the climate crisis. They believe that climate change is the most pressing issue facing mankind today and ending it will take swift action and creative problem solving. Great.com's founder, Erik Bergman, has a background in online casino marketing and started Great.com with the goal to move money from the New Jersey online casino industry to climate research.