Hiking Trails in America: Let's Finish the Job
American Hiking Society Issues Call to Action
SILVER SPRING, MD – June 4, 2015 –A new American Hiking Society report, Hiking Trails in America: Pathways to Prosperity, details 50 years of progress in the creation and expansion of America's trails, while also highlighting the critical work that remains to fulfill President Lyndon Johnson's vision of a nation where trails are readily available and accessible to all.
American Hiking Society's call to action outlines three priorities: that Congress appropriate the funds needed to close the gaps on our existing iconic trails; the construction of more urban trails; and to increase the diversity of trail users all across America.
At a news conference in Washington, DC today, American Hiking Society President, Gregory Miller, called on Congress to:
"We must approach the next 50 years with even more resolve and with renewed dedication to the work that began half a century ago," said Miller. "Unfinished trails must be completed and new ones must be built. It is time to foster a new generation of trail stewards and for Congress to provide the funding and resources needed to finish the job."
Hiking Trails in America also highlights the need for more trails in urban and densely populated suburban areas. It further urges state and local leaders to recognize that hiking, as one of the gateway activities for outdoor recreation, has relatively few hurdles to engagement for most Americans.
"Americans are a people who have always been enthralled by and in love with the outdoors" noted Miller. "And we rekindle the human-nature connection through trails—every American's portal to experiencing and cherishing the great outdoors."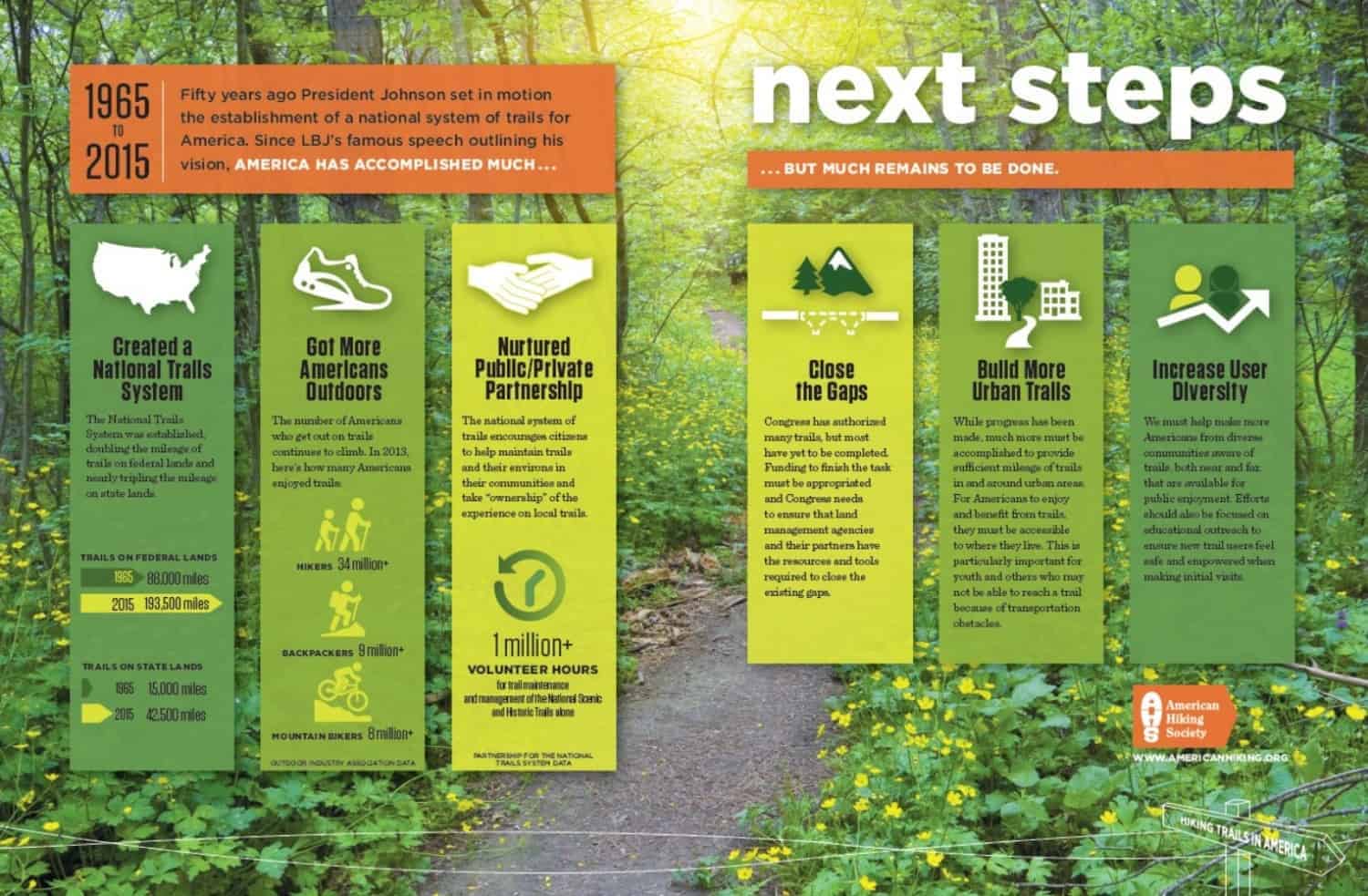 ##
Founded in 1976, American Hiking Society is the only national, recreation-based nonprofit organization dedicated to promoting and protecting America's hiking trails, their surrounding natural areas and the hiking experience. To learn more about American Hiking Society and its mission and programs, please visit americanhiking.org or call (301) 565-6704.