Trails Day ® Events Slated for all 50 States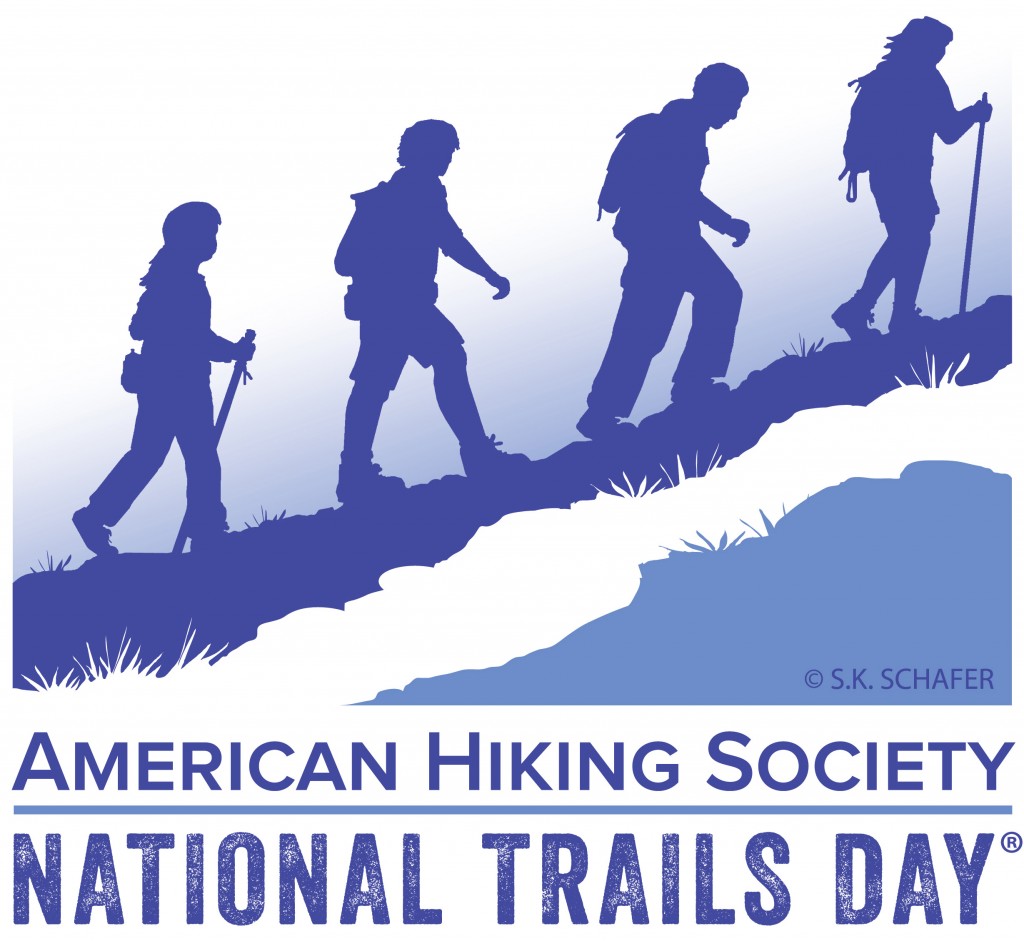 Tens of thousands of outdoor enthusiasts will be hitting the trail on June 1 as they celebrate American Hiking Society's 21st National Trails Day®.  Event attendees will be hiking, pedaling, horseback riding, and paddling through some of America's most beautiful areas as part of the celebration.  National Trails Day® is devoted to appreciating America's trails and the hard-working individuals who build and maintain them.  In honor of this day, thousands of public events will be hosted nationwide, and.  National Trails Day activities will be available in all 50 states and also the District of Columbia and Puerto Rico.
"With the total number of National Trails Day
®
recreation activities increasing year after year, 
finding an event
 near you has never been easier," commented Gregory Miller, President of American Hiking Society.  "Events have a huge depth of variety, ranging from leisurely guided hikes to trail building, horseback riding, kayaking and more.  Regardless of whether you consider yourself a hiker, mountain biker, equestrian, bird-watcher, or simple nature enthusiast, there is bound to be an event to fit your needs.  Many events offer family options, so even the littlest ones can participate."
Here is a sampling of events that convey the variety of experiences that will be available:
If you live in the Los Angeles area, you can get a whole new view of the famed Hollywood sign by joining the LA Trail Hikers for a 6.2-mi roundtrip excursion from the Griffith Observatory to the top of Mount Lee.  You'll be rewarded with incredible views of the Hollywood Sign letters, Hollywood reservoir, and the surrounding cities.
For history buffs, Valley Forge National Historical Park at King of Prussia, PA, will host a Trails Fair that will feature guided hikes, educational clinics, and volunteer projects.  The event will also include a showcase of the latest developments in outdoor equipment and gear.
People who like to live on the edge will enjoy the XtremeFest of the Blue Ridge in Waynesboro, VA.  The local Department of Parks and Recreation has partnered with local outfitters and will introduce event attendees to exciting adventure sports like rock climbing, kayaking, mountain biking, and hiking.
If you have children with you, or simply prefer something a little less heart-pounding, Theatre-Hikes Colorado will be hosting "Snow White," by Marjorie Sokoloff, at Boulder's Chautauqua Park.  In this exciting and innovative retelling of the classic "Snow White," audience members and actors will hike from scene to scene along beautiful open trails.  The full production will be performed in this family-friendly, low impact outdoor entertainment hike.
In Woodstock, VT, National Trails Day® attendees can celebrate both local trails and local food at the Marsh-Billings-Rockefeller National Historic Park, where each trail in the 5th Annual Trek to Taste will lead to samples of delicious farm-fresh treats prepared by area students.  Event attendees will also enjoy family-friendly arts and crafts activities, trail games, displays, live animals and music.
For bird enthusiasts, the World Bird Sanctuary in Valley Park, MO, is planning a family-friendly event with free, child-focused activities.  The event will also offer three different trails that will feature naturalists with live animals at interpretation stations along the way.
National Trails Day
®
is made possible by the generous support of event sponsors, including
The North Face
,
Merrell
,
Adventure Medical Kits
,
Columbia
,
Gregory
and
Gerber
.  Other supporters include American Park Network, Backpacker magazine, Boy Scouts of America, REI, YMCA of the USA, the Bureau of Land Management, Federal Highway Administration, National Park Service, USDA Forest Service, and U.S. Fish and Wildlife Service.
Join American Hiking Society and thousands of others on Saturday, June 1, for National Trails Day
®
as we come together to explore, learn about, and celebrate America's trails.  Find the nearest National Trails Day
®
event by visiting
AmericanHiking.org
 and clicking on 
National Trails Day
®
.
About American Hiking Society's National Trails Day®
American Hiking Society's National Trails Day® is a nationally recognized trail awareness program that occurs annually on the first Saturday of June and inspires the public to discover, learn about, and celebrate trails while participating in outdoor activities, clinics, and trail stewardship projects. National Trails Day® is a registered trademark of American Hiking Society.
About American Hiking Society
Founded in 1976, American Hiking Society is the only national, recreation-based nonprofit organization dedicated to promoting and protecting America's hiking trails, their surrounding natural areas and the hiking experience. To learn more about American Hiking Society and its mission and programs, visit americanhiking.org or call (301) 565-6704.