Your donation today will go towards the Alternative Break Scholarship program.
What will your gift help us do?
Equip students with leadership training.
Allow exploration of outdoor service in a safe and inclusive environment.
Expose the next generation to potential careers in land management and conservation by pairing groups with industry experts.
P.S. Get a free gift when you donate!
Donate $75 or more and receive this Eddie Bauer 10L sling pack.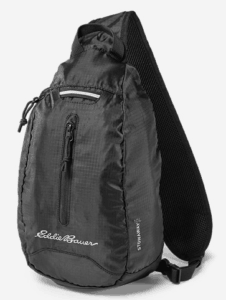 Protect the Places You Love to Hike
American Hiking Society is a 501(c)(3) nonprofit organization and our Tax ID # is 51-0211993. This gift is tax-deductible minus $20 for
receiving the Swiftwick socks and minus an additional $50 if receiving the Osprey pack. Please allow 6-8 weeks for delivery.
Have Questions? Call Us at 1-800-972-8608 x 702 or email [email protected]