Gear for Hiking with a Dog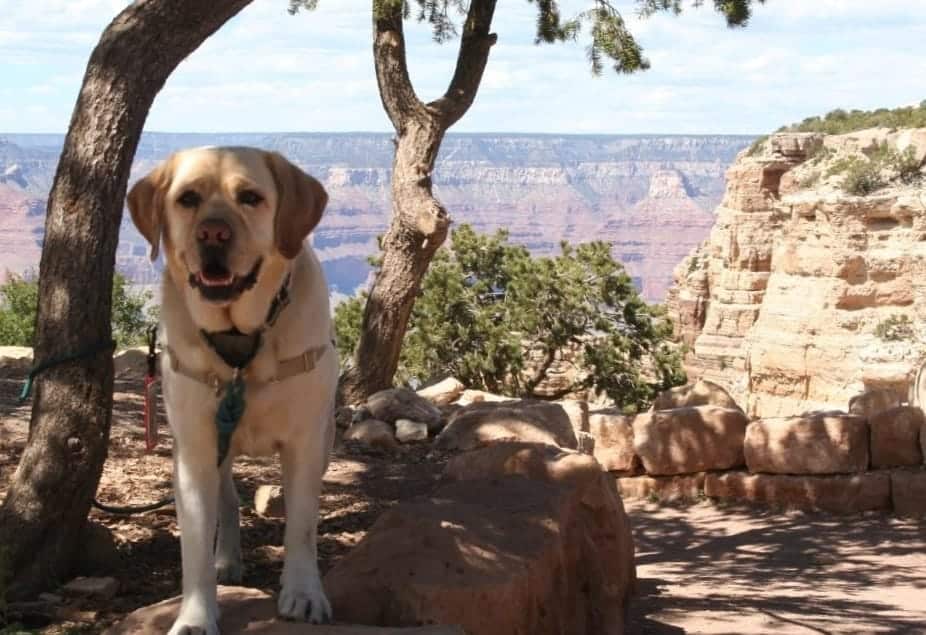 Do you enjoy hiking with a furry friend? Have you thought about the special kinds of gear you'll need for hiking with a dog?
As a well-prepared hiker, you wouldn't consider hitting the trail without items that will keep you safe and comfortable. If you're not sure what to bring, check out our 10 Essentials of Hiking. When bringing your dog along on hikes, be sure to check out our list below for the special gear your dog needs.
Before hitting the trail with your dog, check out the advice provided in Hiking with Dogs: Becoming a Wilderness-Wise Dog Owner, written by Linda B. Mullally and published by FalconGuides. The book contains information on many relevant topics, including choosing a dog for the trail, bonding, obedience, conditioning your dog, necessary gear, wildlife conflicts, medical emergencies, trail etiquette, and more. Even an experienced dog owner will find valuable tips and advice in this publication. The following list of gear for hiking with your dog is adapted with some modifications from a chapter on Day Hike Gear in Linda Mullally's book, and the information is reprinted here with permission from FalconGuides.
Gear at a Glance:
Collar or Harness
Leash
Identification Tag or Microchip
Water
Food
Collapsible Bowl
Plastic Bags or Small Spade
Canine First Aid Kit
Reflective Jacket, Collar, Leash, or a Small Light
Clothing
1. Collar or harness. A collar or harness will help to identify your dog as a pet, particularly if it is made of a colorful material that can be seen from a distance. Ensure that the collar or harness is loose enough that you can easily slip your finger underneath, but don't have it loose enough that it could slip off. Don't ever use a choke collar, as it could get caught on a low branch and strangle your dog.
2. Leash. The leash must be durable enough to withstand the rigors of the trail. Leather and nylon both work well. If you use an expandable leash to give your dog some additional freedom of movement, keep the leash short enough to retain good control.
3. Identification tag and/or microchip. A microchip can be easily inserted by your veterinarian and is a great way to ensure that you will be reunited with your dog if she should get separated from you. Tattoos that are placed on the inner thigh of a back leg can serve the same purpose. Be sure to register your dog's microchip or tattoo with an online registration service such as the one operated by the American Kennel Club, and keep your online contact information up to date. It is also useful to have an indentification tag engraved with your dog's name and your phone number, since anyone who might find your dog could read the information without having a special microchip scanner. Plastic or metal identification tags can be obtained at a pet store. Attach the tag with a durable loop ring, which is more secure than an "S" hook.
4. Water. Carry at least 8 ounces of water per dog per hour of hiking. When you're hiking in hot weather, fill plastic water bottles 3/4 full and place them in the freezer the night before your outing; the ice will melt as you hike, providing a source of cool water for your dog. Avoid letting your dog drink standing water from puddles and ponds, as bacteria and parasites can be present there and cause your dog to become sick.
5. Food. Carry nutritious snacks for your dog and offer them regularly to keep your dog's energy level high. It's better to feed your dog smaller amounts on a more frequent basis to prevent the discomfort of exercising on a full stomach.
6. Collapsible bowl. A collapsible bowl will make it easy to give your dog food and water. These lightweight nylon bowls often feature a loop which enables you to attach the bowl to your pack or the dog's leash, making it easy to use it without having to dig through your other belongings.
7. Plastic bags or a small spade. These items will enable you to effectively deal with your dog's waste. Plastic bags can be used to pack the waste out with you, and you can attach them to the outside of your pack with a carabiner so that you don't have to stash them inside. An alternative approach involves using a small plastic spade to bury your dog's waste.
8. Canine first aid kit. Carry along some basic supplies that will help you to deal with injuries that your dog might sustain on the trail. A few of the items to take would include: hydrogen peroxide to disinfect cuts, scissors with rounded tips to trim hair around wounds, bandages and gauze pads, tweezers to remove foreign objects in a wound, and a small sock or bootie to protect a wounded foot.
9. Reflective jacket, collar, leash, or a small light that attaches to the collar. Reflective clothing and accessories or a light will help to protect your dog during road crossings at night.
10. Clothing such as booties, bandanas, canine flotation devices, or insulating jackets. Keep these items on hand to prepare for adverse weather conditions and certain special activities. Check the conditions where you are headed and determine what kinds of clothing your dog might need. Booties can protect your dog's paws in icy or abrasive trail conditions. A bandana or neck gaiter will identify your dog as a pet and can be used as a bandage if needed. A canine flotation device is important for any trips that involve boat rides, and an insulating jacket will help keep short-haired dogs warm on winter hikes.