Congress Passes Trail Inclusive Spending Bill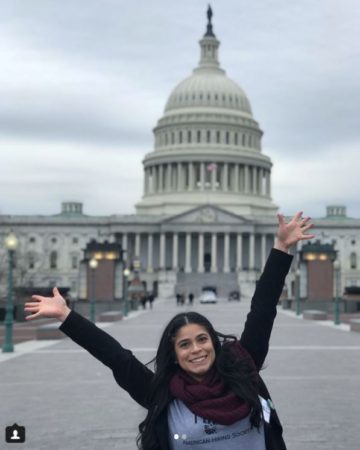 It looks like our targeted advocacy worked!  On March 22, Congress passed legislation to fund the government through October 2018. While we're still going through the 2,232 page bill for all the details, it appears most of the funding for programs benefiting hikers and trails have been preserved and protected from the drastic cuts in the Administration's proposed budget. This outcome is a direct result of strong advocacy efforts to protect our public lands, including outreach by AHS members and supporters to their representatives and the tireless work of the NextGen Trail Leaders, and all the participants of Hike the Hill®, who made their voices heard.
Here are some of the hiking highlights:
America's most important conservation funding program received an increase.

 Strong bipartisan support for the Land and Water Conservation Fund (

LWCF

) came through as it received funding in the amount of $425 million dollars, a $25 million increase from last year. The LWCF is responsible for protecting parks, wildlife refuges and recreation areas at the federal, state and local level. For over 50 years, it has provided critical funding for land and water conservation projects, recreational infrastructure and activities (including trails) and the continued historic preservation of our nation's iconic landmarks from coast to coast.
While this funding is critical, we still have work to do to pass a permanent reauthorization of the LWCF before it expires on September 30. Now is the time to contact your members of Congress and tell them to pass H.R. 502/S.896/S.569.
Wildfires will receive the funding they need, instead of taking from trail maintenance.  

Congress also came together to provide a

comprehensive wildfire funding fix

that ensures adequate funding to fight the increase in wildfires that have swept across the country. Over the past years, the increasing costs to battle these wildfires forced the Forest Service to deplete its budget in other areas, resulting in drastic cuts to essential non-fire programs, including maintenance of trails. This long awaited comprehensive fix directs that any additional funding be taken from already established funding set aside for natural disasters.
Forest Service trail maintenance funding increased.  The bill rejects an Administration proposed $67.3 million cut to the maintenance of trails by the Forest Service, and instead provides a $2.6 million increase to $80 million for addressing the 157,000 mile trail maintenance backlog and implementing the National Forest System Trail Stewardship Act.
The national park fee increase proposal will receive more scrutiny.

 In an update to AHS's work opposing the proposed

fee increase at our National Parks

, the bill includes a requirement for the Department of the Interior to provide a report to Congress within 60 days on the proposed fee increase, including a cost benefit analysis and the impact on accessibility to the parks. It's important for Congress to continue to closely monitor and scrutinize this proposal, hopefully preventing it from taking effect.
The progress today is a small step on a long trail as Congress has begun the process for deciding 2019 funding, the LWCF is set to expire in September, and we're still fighting for our public lands. We hope you will join with AHS as we continue this important work to protect the places you love to hike.