AHS Welcomes Bob and Martha Manning as Ambassadors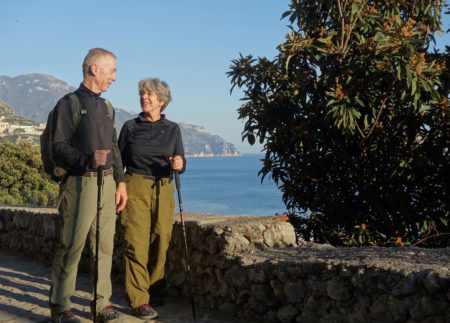 American Hiking Society is thrilled to welcome Bob and Martha Manning to the Ambassador Program of AHS- promoting the benefits of hiking and inspiring more Americans to explore the great outdoors.
Bob and Martha Manning are accomplished hikers and authors who write and speak about their outdoor adventures.  They discovered the national parks shortly after they were married, honeymooning at Cape Cod National Seashore.  They lived in California for several years, hiking and backpacking in Yosemite and many other western national parks.  After graduate school, Bob became a professor at the University of Vermont, teaching and studying the history, philosophy, and management of national parks.  His program of research for the National Park Service allowed him and Martha to visit and hike in national parks throughout the nation, including spending four year-long sabbaticals at Grand Canyon National Park, Yosemite National Park, Golden Gate National Recreation Area, and the Washington, DC headquarters.  Martha uses these adventures as inspiration for her work as an artist.
While living in Vermont, they hiked the state's 272-mile Long Trail, the first long-distance trail in the US.  And then they were hooked!  They've hiked dozens of long-distance trails on six continents and have written two books about these walks.  The first, Walking Distance: Extraordinary Hikes for Ordinary People, offers first-hand descriptions of 30 long-distance trails throughout the world.  Their second book, Walks of a Lifetime: Extraordinary Hikes from Around the World, offers first-hand descriptions of 30 more long-distance trails and multi-day hikes, interspersed with short essays on many dimensions of hiking.  Both books are designed to encourage readers to walk more in their everyday lives and to try long-distance walking.
Bob and Martha are invited speakers at many venues, including the International Trails Symposium, the Walkabout International Conference, and many hiking and conservation organizations.  The Mannings have a long association with American Hiking Society.  Bob served on the Board of Directors and is a life member, and they are especially pleased to be named AHS Ambassadors.  The Mannings take this position seriously, encouraging people to "walk the talk" and reap the many benefits of hiking.
See where the Manning's have hiked on their website, www.extraordinaryhikes.com.
Read our #HikingMakesMe Interview with Bob and Martha, HERE.