Four Ways to Celebrate National Trails Day® on a Bicycle
There are many ways to celebrate the American Hiking Society's National Trails Day® on June 2. It's even possible to participate on a bicycle. And if you go on a bike overnight trip during National Trails Day® you will simultaneously be part of Adventure Cycling Association's Bike Travel Weekend, which inspires people throughout the world to go on a bike overnight to a campground, B&B, hotel or friend's house during the weekend of June 1 – 3. National Trails Day and Bike Travel Weekend occur during the first weekend in June and connect participants to thousands of people throughout the world who are also enjoying trails or going on an overnight bike trip.
In 2018, discover your trails in a new way—on a bicycle! Below are four ways to participate in National Trails Day® on a bicycle.
Go on a bike overnight on a trail.
A bike overnight requires you to ride your bike any distance to a campground, hotel, B&B, hostel or even a friend or relatives' house, spend the night, and ride back the next day. You can carry your own belongings on your bike (in panniers or in a bike trailer) or ask a friend to support you by transporting your gear to your destination. Adventure Cycling's Bike Travel Weekend Ideas page includes resources on how you can plan your first bike overnight, including how to find a trail near you.If your Bike Travel Weekend trip is all or partially on a trails, it will automatically be counted as part of National Trails Day®. Last year, over 150 public Bike Travel Weekend trips occurred on trails, and those trips were counted as both Bike Travel Weekend and National Trails Day® eventd. Register for Bike Travel Weekend at adventurecycling.org and enter to win a Co-Motion Cycles bike or an Amtrak trip for two people, with bikes, to Glacier National Park.
Find a Bike Travel Weekend trip to join or reach out to a Bike Travel Weekend Advisor.
If you've never been on a bike overnight you may want to join a public trip led by an experienced bicyclist. Bike Travel Weekend's Find A Bike Overnight page includes an interactive map of trips open for other to join. The trips are also listed by country and U. S. states, with almost all 50 states represented.The Bike Travel Weekend Connect with an Advisor page also includes contact information of experienced bicyclists organized by geographic regions who are available to offer information and advice to people who are new to bicycle travel.
Ride your bike to the site of a stewardship project.
Give back to public lands by incorporating a stewardship project into your bike overnight. If you are riding to or through public lands or staying at a campsite in or near public lands there's likely a stewardship project happening near your destination. Take a break from your ride to help build, maintain, or clean up trails. Even if you can only give an hour or two it will be much appreciated and you'll feel good about giving back. Find a stewardship project near you.
Share National Trails Day® and Bike Travel Weekend with friends.
The American Hiking Society and the Adventure Cycling Association make it easy for you to share National Trails Day® and Bike Travel Weekend with friends. Use the National Trails Day® Toolkit and Bike Travel Weekend Toolkit for messaging and images. Remember #NationalTrailsDay and #BikeTravelWeekend. Even if you aren't out on the trails for National Trails Day® and/or on your bike for Bike Travel Weekend you can still participate by promoting the initiatives and inspiring a friend.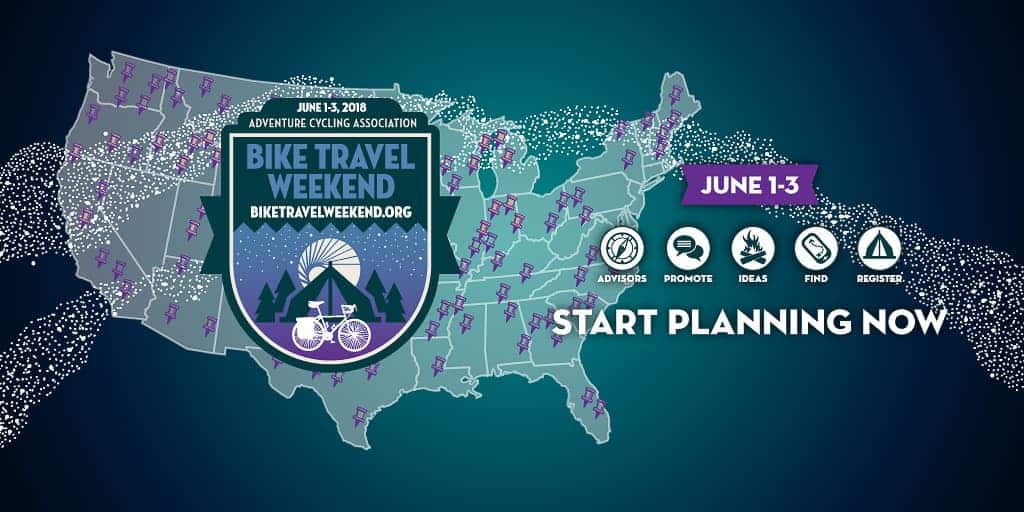 Enjoy National Trails Day® and Bike Travel Weekend during the first weekend in June no matter how you celebrate!