Cheaha State Park, Alabama – Volunteer Vacation 2022
Trip Navigation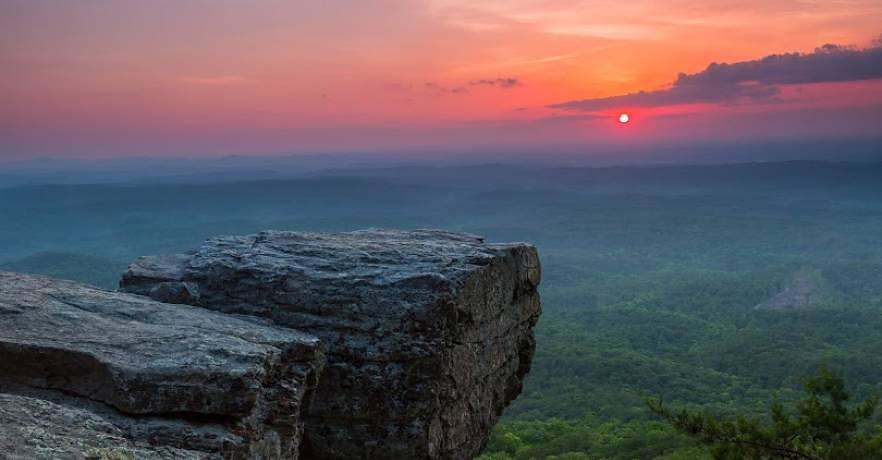 Nestled in the rolling foothills of the Appalachian Mountains and surrounded by 300,000 acres of Talladega National Forest sits Cheaha State Park, home to Alabama's oldest state park and home to its highest point.  Often called Alabama's "Island in the Sky", Cheaha welcomes guests to enjoy and connect with nature. "Cheaha" is derived from the Muscogee word "Cheaha," which means "high spot" in Creek Native American language. Mountains have long been associated with spiritual places of transformation. The Civilian Conservation Corps (CCC) believed that Alabama's highest point deserved an enduring showpiece to memorialize this unique location, so they built a stone observation tower made of native Cheaha Quartzite.
Cheaha Lake and Rock Garden are connected via the Lake Trail. Despite its short length, this trail is steep and rugged. The Lake Trail, commonly known as the Blue Hell Trail, is highly popular for hiker training since it boasts 1,000 feet of elevation change in approximately half a mile. It's a challenging and enjoyable trail to hike! Volunteers will be repairing the Lake Trail that ascends from Cheaha Lake on this trip. Clearing brush, digging trail tread, and constructing rock steps, are some of the specific tasks. The team will also install drainage features, bridge sites, and other sustainable trail design aspects. This project is rated as "strenuous" due to the nature of the steep, rocky trail.
Cheaha State Park's Bunker Observation Tower is still utilized as a monument for Alabama's highest point. To honor those who worked to develop Cheaha State Park, we wish to create a Base to Summit Trail that will conclude with a climb to the top of the CCC Bunker Observation Tower. Cheaha State Park attracts visitors from all over the world who come to climb Alabama's highest point, which stands at 2,407 feet above sea level. By constructing the Base to Summit Trail, we will be able to expand guests' experiences, provide them with a new hiking challenge, connect them to Cheaha's rich cultural past, and establish new ties to the great outdoors.
Register