Prince William Forest Park, VA – Volunteer Vacations 2023
November 5 @ 5:00 pm

-

November 11 @ 10:00 am
Trip Navigation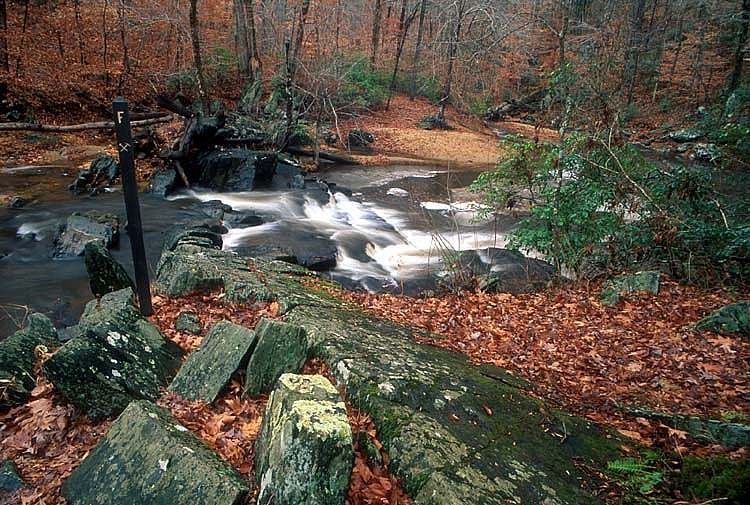 Volunteers are needed to relocate a section of South Valley Trail following sustainable trail building guidelines! New trail will be just over 1 mile in length through the woods over varied terrain. Work will involve hand tools and moderate to heavy manual labor; raking, digging, moving small rocks, forest debris, clearing vegetation/downfall, grading trail tread, and chopping small roots. New trail may or not be roughed-in by that time, but will at least be pin flagged at minimum. There is 1 footbridge to be constructed. Lumber may be needed to be hiked in to the bridge site.
Volunteers should be prepared to hike off-trail for short distances over uneven rolling terrain and potential tripping hazards. The trail access is directly off of a gravel fire road where volunteers will park your vehicles. Hiking is no more than 2 miles round-trip over varied terrain. Tools and materials will be hiked in from the road.
The trail head is 5 miles away from the cabin campground. 4.5 miles of those miles is on paved road. The last half-mile is on rough gravel road. Transportation will be provided. Volunteers can bring their own vehicles if you prefer.
There is no experience needed to join a Volunteer Vacation! Your expert hosts will provide detailed instruction, tool demonstrations, and project oversight throughout the week. All you need is a willing attitude and to be in good physical condition to participate in moderate physical activity for approximately 6-8 hours a day with plenty of breaks, at your own pace. Find out more about what it's like to join a Volunteer Vacation and other frequently asked questions here.
AHS acknowledges with gratitude that this project takes place on the traditional lands of the Doeg peoples past and present. We honor the land itself, the Indigenous communities who have stewarded this land for generations, their deep and sacred connection to these lands, and those who continue to steward these lands today. We offer this land acknowledgement as the first of many steps to stand as an ally and amplify Indigenous voices. We invite the American Hiking Society community to join us through continued efforts to support Indigenous communities and learn more about the history of the lands on which we live, work and recreate.
Register