Volunteer Vacation Highlight: Volunteers Share Their Experience From the San Juan Islands
Curious to learn what the Volunteer Vacation experience is like? Volunteers share about the impactful work and immensely rewarding elements of these trips.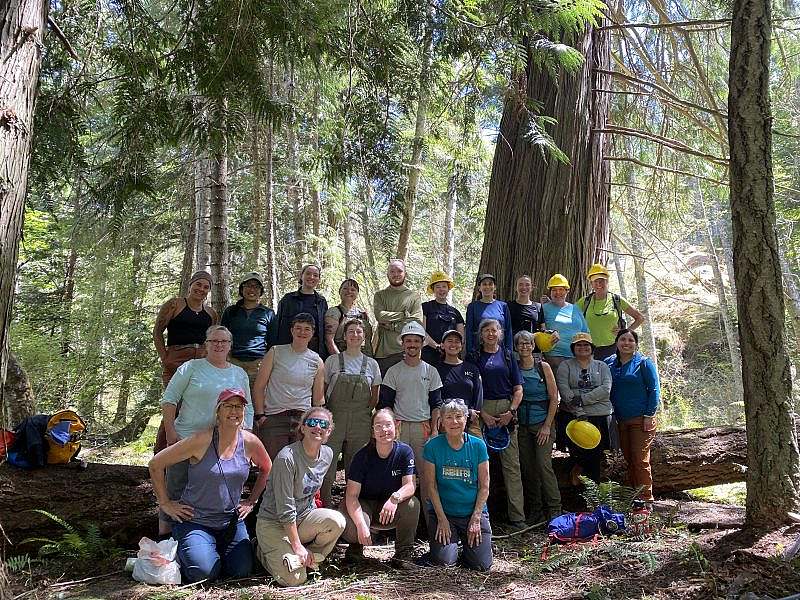 Before you join American Hiking Society on a Volunteer Vacation, you likely will have a lot of questions — questions like: what will each day be like, how many other volunteers will there be, is it okay if I've never used tools before?
The short answers: Crews consist of 6-15 volunteers accompanied by a crew leader. Volunteer Vacations involve backpacking or day hiking and accommodations vary from primitive campsites to bunkhouses or cabins. Tools and supervision are provided by the host agency or organization.
While we're always happy to answer any and all of your questions (you can find a lot of helpful trip tips and information on our website, too!), we think it's especially helpful to hear from previous volunteers to learn more about the Volunteer Vacation experience!
AHS Heads to San Juan Islands
Today, we're highlighting one of American Hiking Society's most popular Volunteer Vacations, the San Juan Islands National Monument trip where volunteers helped this friendly island community maintain local trails! In 2023, because of the popularity of this destination, we hosted two Volunteer Vacations in the San Juan Islands!
In July, AHS teamed up with Adventurus Women to make this particular San Juan Volunteer Vacation especially unique by hosting this fan-favorite trip with an all women crew!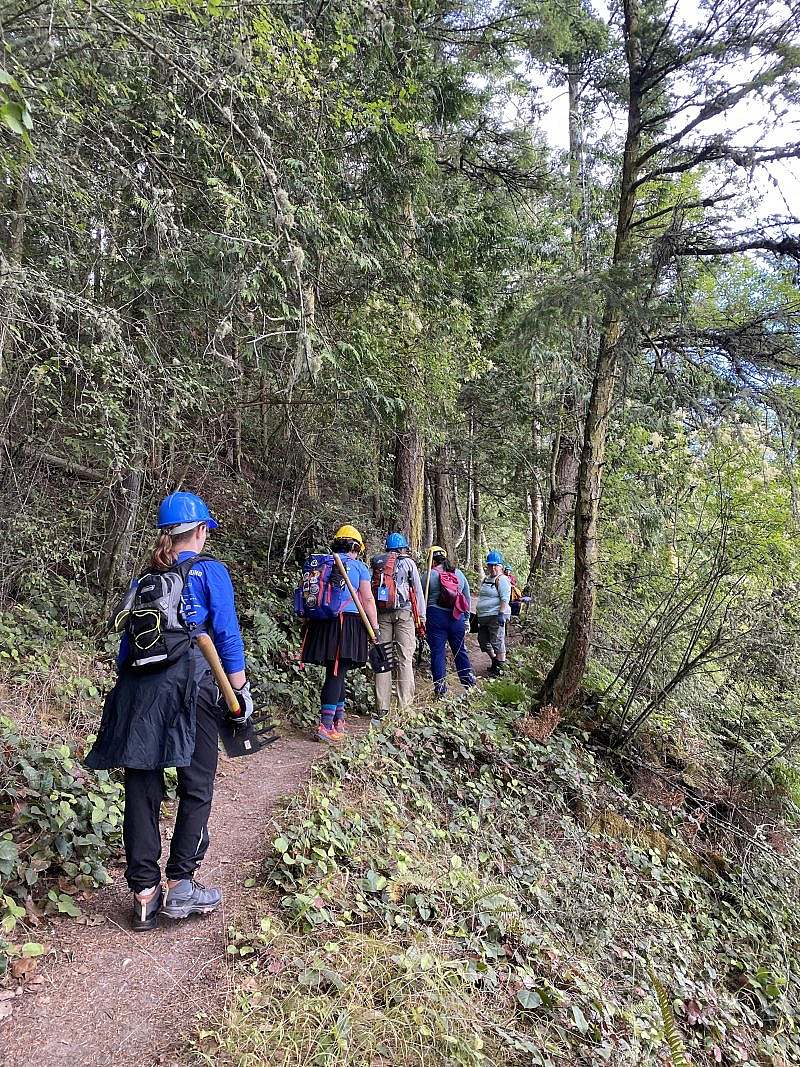 On this trip, American Hiking Society volunteers performed trail maintenance, noxious weeds eradication and recreation site maintenance. In their free time, volunteers had the opportunity to explore the area's stunning ocean vistas, and try their luck at spotting local wildlife — orca whales, humpbacks, and other marine life and sea birds.
Hear From Volunteers
AHS NextGen Trail Leader Liz Guerrero joined us on this incredible trip, excited to experience something completely new to her. If the manual labor element of Volunteer Vacations intimidates you, it's helpful to hear from Liz, she shared that as she became more comfortable with the trail tools, "all my doubts about being able to do trail maintenance slowly disappeared," she also noted that it was "reassuring to know we were only expected to do what was within our own limits."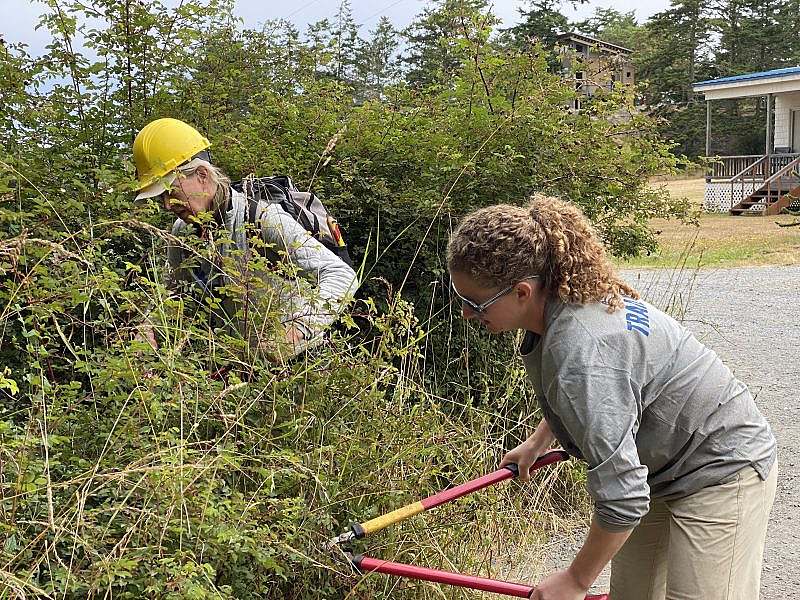 …And about those days off? Liz thoroughly enjoyed them, too! She noted, "It's not all work work work with AHS Volunteer Vacations. We had a free day to do whatever our hearts desired. Part of the crew stayed on Lopez Island for some kayaking in the bay, and a few of us ventured out to San Juan Island for a day of exploring and adventure."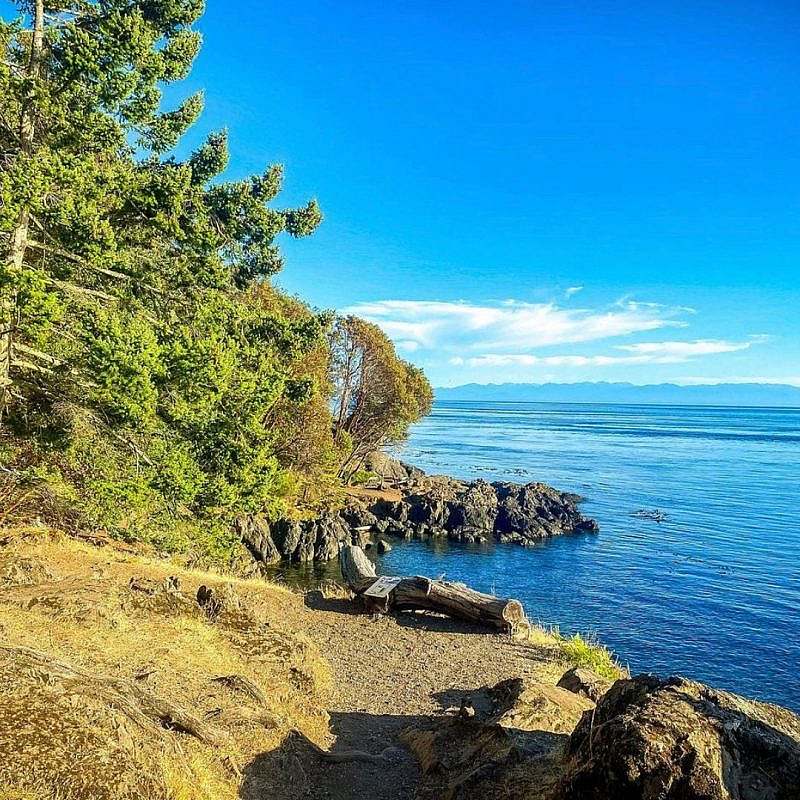 Pam Morton, AHS Development Coordinator, joined the San Juan Islands Volunteer Vacation trip that featured an all women identifying crew in July 2023. Read about Pam's experience below and sign-up for your own experience!
"I chose the San Juan VV because of the beautiful location–camping on an island for a week seemed very appealing!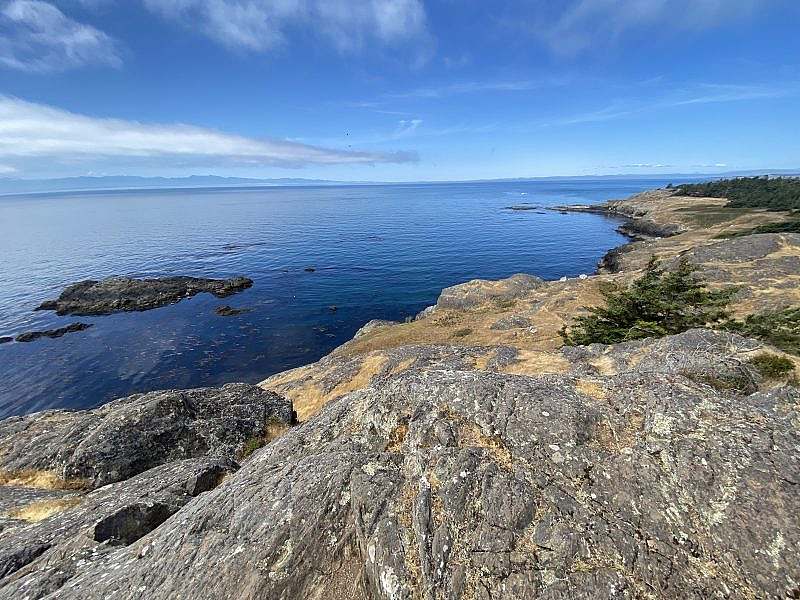 As the trip got closer I started thinking about how challenging the trail work could be, as well as what to pack and other logistical questions. Fortunately the crew leaders were able to answer my questions by email, and several of us arranged to carpool from the airport to the island.
Once we fit all of our gear into the vehicle, we were off! When we reached the campsite and met the other volunteers, everyone was so welcoming! There were women from their 20s to 70s, and about half of us had never been on a Volunteer Vacation before. We came in from all parts of the country to join this adventure.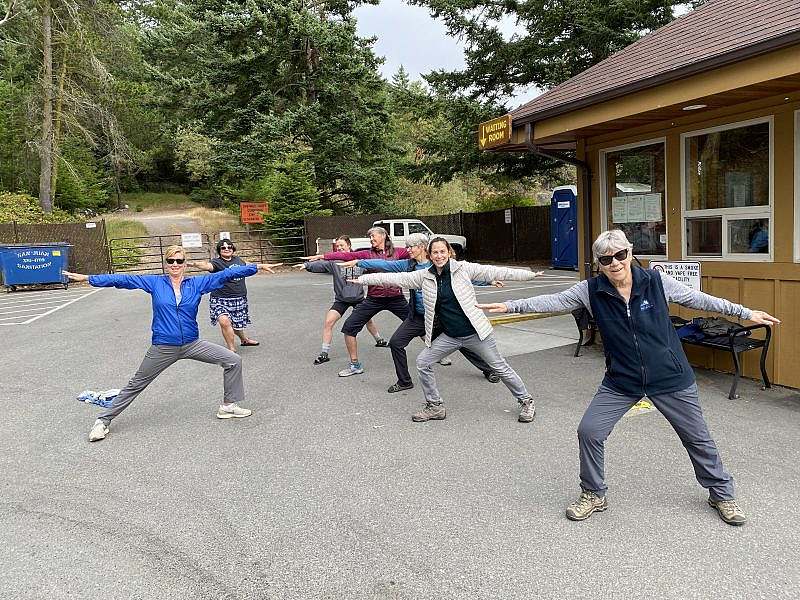 In the morning, one of the group members started us off with some yoga to limber us up for the day. Then we were off down the trail with our tools and helmets, trying not to sing Hi Ho (at least out loud).
All of us were given detailed instructions and training about the tools we would be using, and how to use and transport them safely–now I can tell a pulaski from a pick mattock!
The leaders encouraged us to work at a comfortable pace and to rest and hydrate often. There was no pressure to work beyond our comfort zones. Camaraderie developed as we discovered which of us love to lop and who is a demon with the McLeod. We were amazed to realize how many decisions go into creating every step of the trail!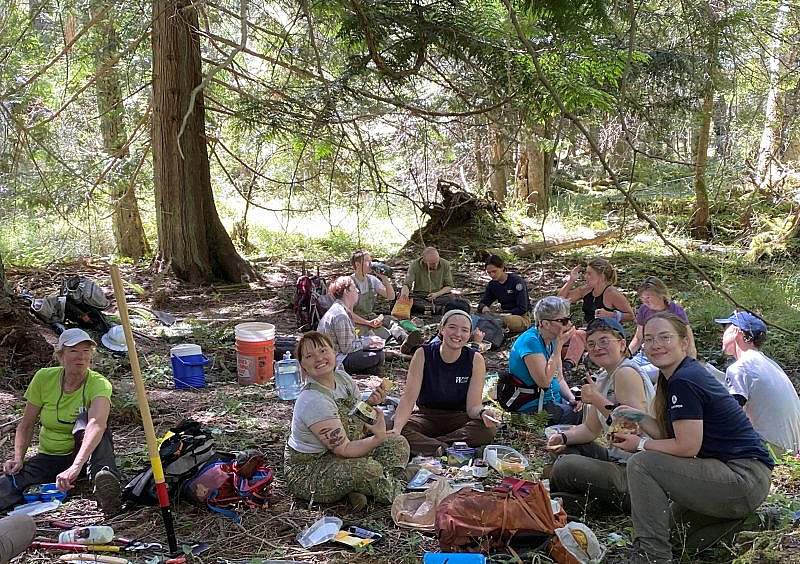 We took our lunch breaks in some amazing locations, including the shade of a massive cedar tree and on the sea cliffs watching the harbor seals. We got to meet many wonderful people from various trail organizations who all care about the trails.
On our day off, we went to San Juan Island, found great food, and saw orcas on a whale watch. Other volunteers went sea kayaking or visited local landmarks.
The week flew by! I can't wait for my next VV!"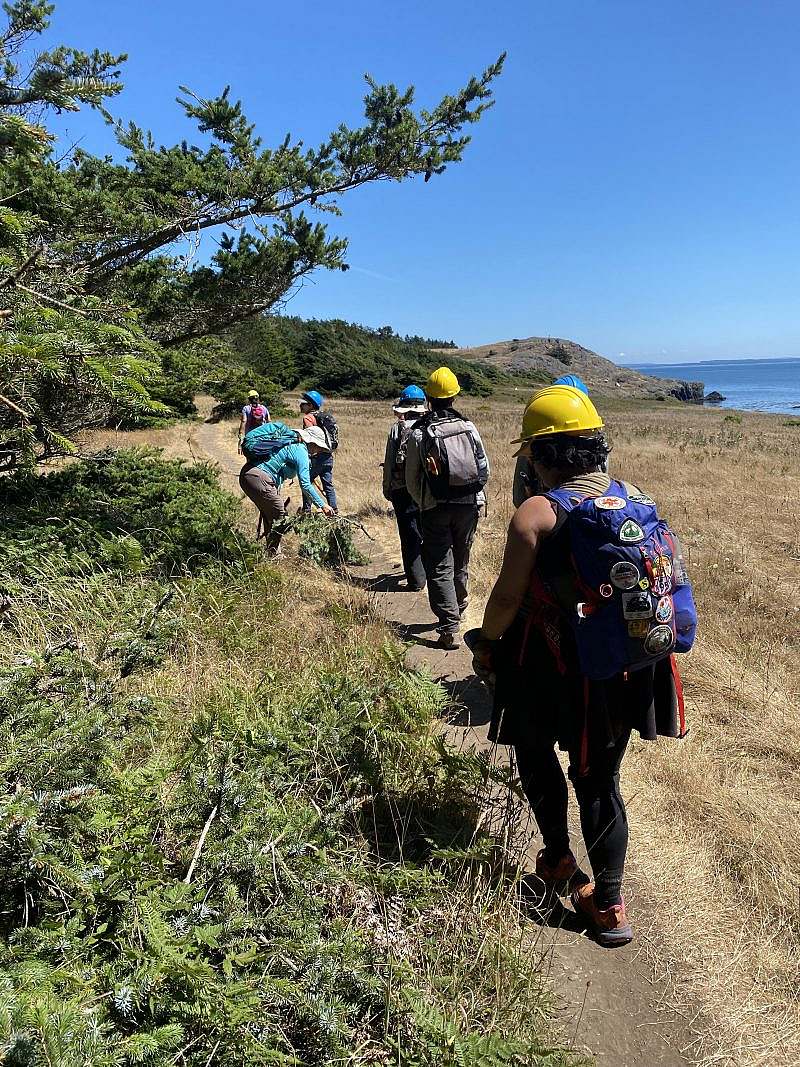 Join Us!
Are you interested in joining us on a Volunteer Vacation? We visit destinations all across the country, so whether you're looking to travel far from home, or prefer something more local, there's something for everyone!
Learn more about these trips (and see what destinations we have coming up this fall!) here.
Photos courtesy of Liz Guerrero and Pam Morton