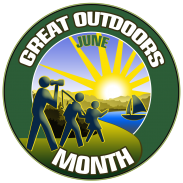 American Hiking Society is proud to co-chair the Great Outdoors Month Coalition for its second consecutive year.   Great Outdoors Month is now a significant and growing component in efforts to keep Americans connected to our Great Outdoors.  We have enjoyed an unbroken chain of Presidential proclamations beginning in the Clinton White House and again in 2013, all fifty governors joined in highlighting the importance of our outdoor legacy to our economy, to the conservation movement, to our health and more.
View the 2013 Presidential Proclamation.
There are outstanding events occurring throughout the month – from American Hiking Society's National Trails Day® to National Get Outdoors Day, from the Great American Backyard Campout to National Fishing and Boating Week and more. Media attention to these events and their shared message of unique and marvelous opportunities for all Americans in the Great Outdoors has climbed.
In 2014, we expect to see a tremendous step forward as the efforts of non-profits, Federal and State agencies and others are joined by several of America's most iconic brands. Great Outdoors Month 2014 will involve key national youth organizations and use in-store platforms to showcase outdoor fun in a way that expands Great Outdoors Month to the period beginning Memorial Day Weekend and running until the 4th of July!