Together we can take action to preserve trails and fight for equitable access to quality green space, even from within quarantine.
We've temporarily experienced life with limited access to trails and public lands and, now more than ever, realize how much we need them.
Take American Hiking Society's #NationalTrailsDay Pledge and commit to taking at least one action in 2020 to preserve trails and fight for equitable access to quality green space.
American Hiking Society will provide easy actions you can take. Once it's safe to get outside in groups again, we'll also share ways to get involved with local trail service projects.
Celebrate National Trails Day® with these Three Steps
"I pledge to take action on #NationalTrailsDay and all year to preserve trails and fight for equitable access to quality green spaces."
We will never share your email address.
Easy Actions to Make a Difference
Here are easy ways to celebrate #NationalTrailsDay. You might have more creative ideas, and we can't wait to see what you come up with. Complete one task or really boost your trail cred by completing all of them:
Speak Up
Tell your Member of Congress why trails and access to natural spaces are important to you and ask them to pass bipartisan legislation that supports trails, public lands, and access for all.
Leave a Trail Better Than You Found It
Once it's safe to do so without fear of COVID-19 transmission, commit to taking a trash bag with you whenever you hike or go for a walk. Collect trash at a local natural space or trail or along your neighborhood sidewalk. We highly encourage volunteers to wear gloves during clean-ups.
Commit to a Trail Work Project in 2020
Once it's safe to go outside in groups, you'll receive updates regarding local outdoor volunteer workdays.
Give a Gift
Trails don't maintain themselves and greenspace for all doesn't magically appear. Make a gift to a local trail nonprofit and join American Hiking Society to help build an inclusive hiking community to protect your favorite trails and fight for access for all today and for future generations.
#NationalTrailsDay Pledge Giveaway
Take the pledge and you will be entered to win one of five prize packages of gear. Each week starting on May 15th we will give away a prize pack. The sooner you take the pledge the more chances you have to win.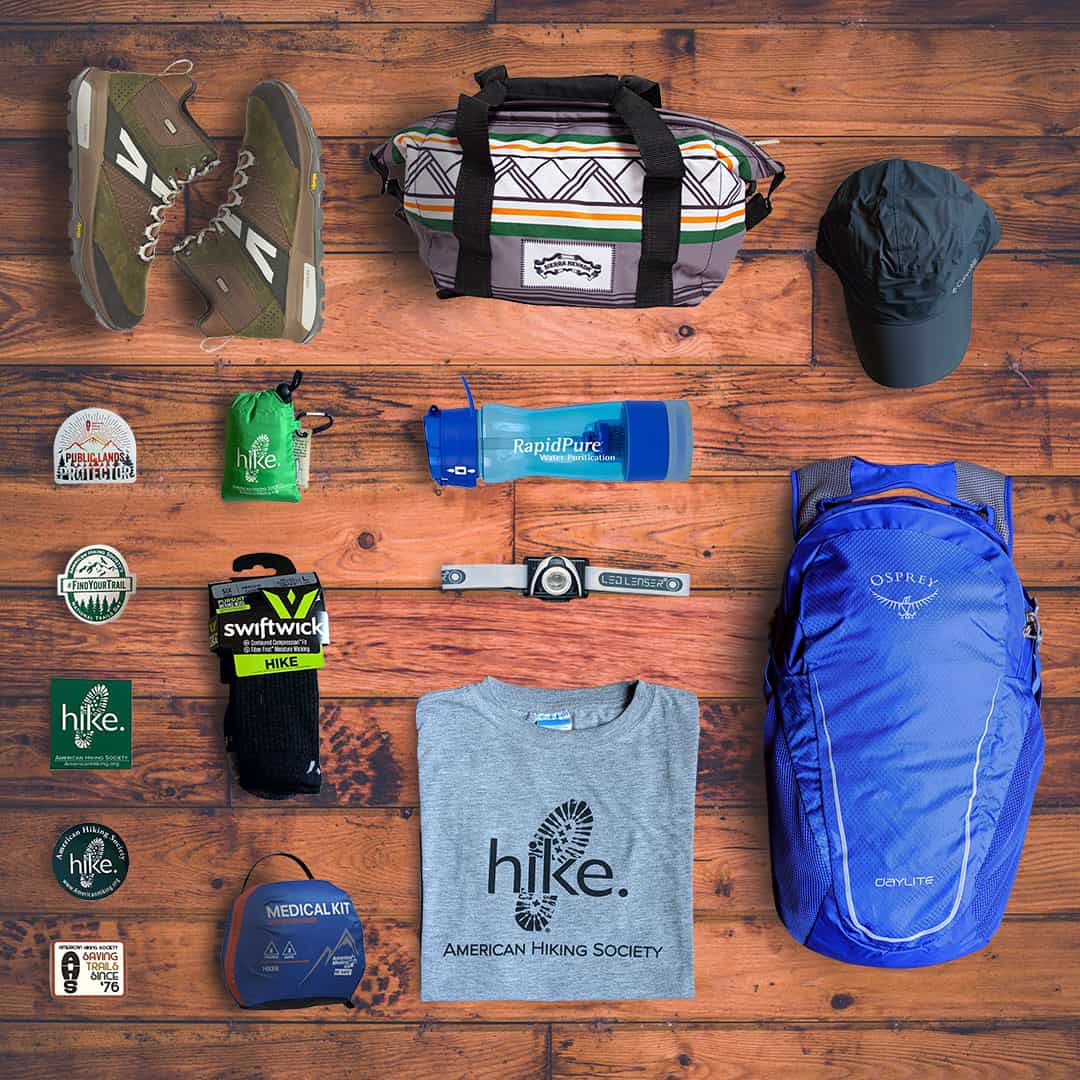 Gear Package
$490 value
Additional Prizes
We'll also be giving away 6 Sierra Nevada Brewing Co. prize gift cards ($50 each) following National Trails Day.
2020 National Trails Day® Update
The health and safety of National Trails Day® hosts, volunteers, and participants is our top priority. Due to the CDC's guidance regarding event gatherings and parks and recreational facilities and preventing the continued spread of the pandemic COVID-19, American Hiking Society will shift from promoting in-person events to a digital activation for National Trails Day® on June 6, 2020.
We are organizing a digital campaign to inspire individuals to unite for the preservation of trails and access to public lands during this time of social-distancing.
As conditions improve allowing access to your local trails be sure to check the operating status of the place you plan to visit. Trail access and facility access (visitor centers, bathrooms, parking lots, etc.) vary based on location and land manager. Check with the local site you plan to visit to see what's open. The National Park Service, Forest Service, BLM, and Fish and Wildlife Service COVID-19 pages can provide helpful information and direct you to the operating status of local units.
Share Photos. Win Gear.
Share why trails and natural space are important to you.
Tag #NationalTrailsDay and @AmericanHiking in your social media posts.
Share a photo from a favorite trail experience, and you will be entered to win a gear prize package. The contest ends June 8, so start tagging.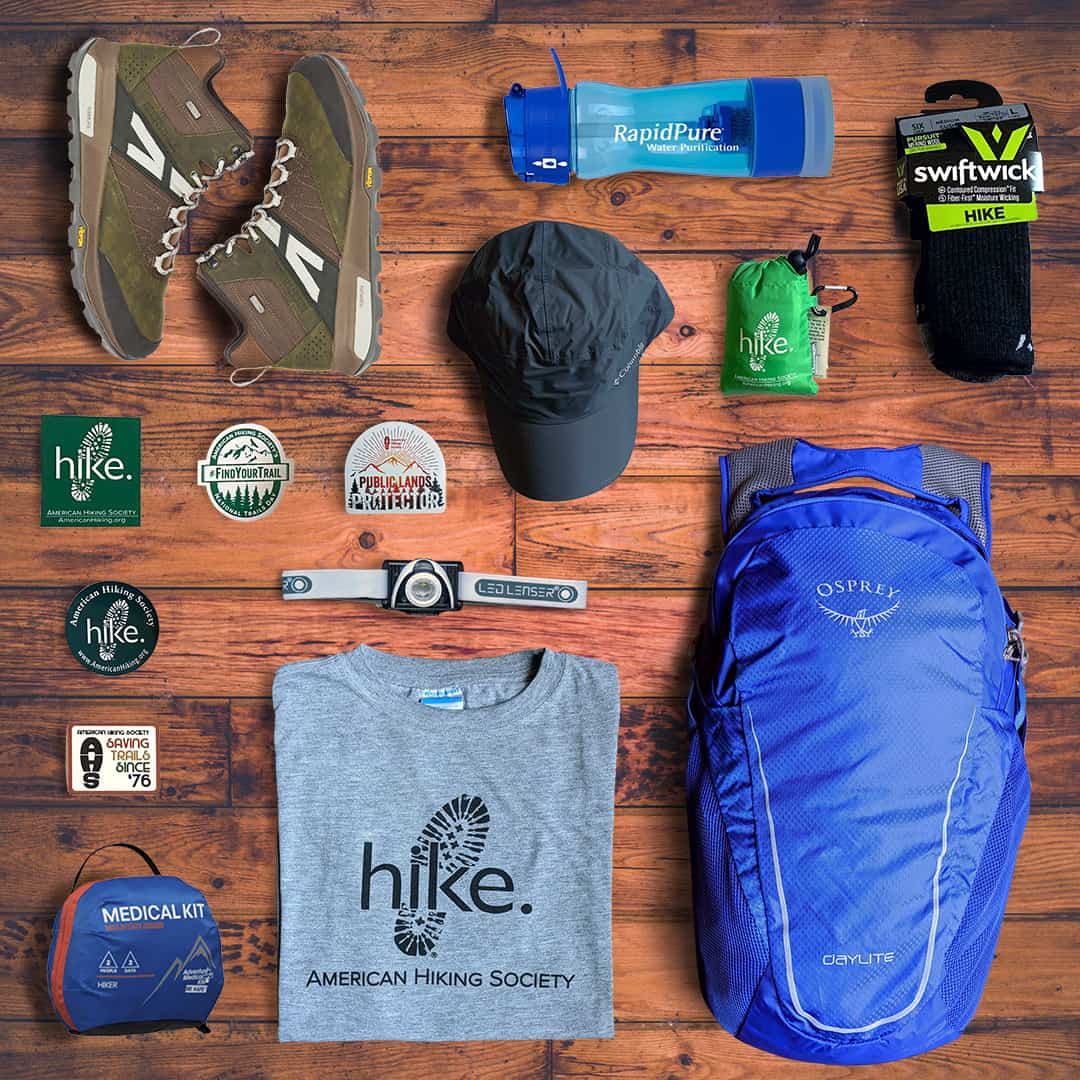 Frequently Asked Questions
Why should I submit a pledge?
By pledging to preserve trails and equitable access you'll join a nationwide movement to build an inclusive trails community, engaged in advocacy and trail service. You will be taking action to preserve beloved trails and outdoor urban and wild spaces so important to the health and wellbeing of future generations. Plus, everyone who takes the #NationalTrailsDay pledger will be entered to win weekly giveaways of awesome outdoor gear leading up to National Trails Day®.
How does this pledge work?
Simply submit the online pledge and we'll send you easy ways to take action on National Trails Day® and all year. After National Trails Day®, everyone who takes the pledge will be entered to win the grand prize package of premium outdoor gear.
How do I share what I did on National Trails Day®?
Tag your photos and stories of why trails and equitable access are important to you with #NationalTrailsDay, and @AmericanHiking on Facebook, Instagram, and Twitter.
Still have questions?
Email [email protected]